Rail survey: Passenger Focus says satisfaction 'high'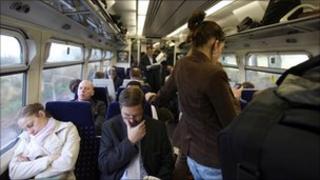 More than four out of five railway passengers are satisfied with their journey, a survey by Passenger Focus suggests.
Its annual survey of 31,000 rail travellers said 84% were satisfied, the highest since it started in 1999.
The highest ratings were achieved by Wrexham & Shropshire - 96% - which has announced it is ending its services.
First Capital Connect (76%) and National Express East Anglia (79%) got the lowest ratings.
The study asks passengers for their opinion on the journey they are taking that day.
Union leaders said the key finding of the study was that fewer than half of all passengers believed they were getting value for money from their ticket.
The proportion of passengers satisfied with value for money for the price of their ticket was 49%, up by 4% over the year.
'Transparency'
Passenger Focus chief executive Anthony Smith said breaking the survey results down by routes marked a huge step forward in accountability and transparency.
"Passengers can now get a much better idea of how their train services compare to others run by their company as well as those across Great Britain," he said.
"The rail industry should be congratulated for agreeing to take this step. We can now move forward to discuss how the industry's main punctuality figure, the public performance measure, can also be broken down into routes which will help give passengers a much richer picture of how their services compare."
Michael Roberts, chief executive of the Association of Train Operating Companies, said the survey showed there had been recognisable improvements in a whole range of areas.
"But train companies are not complacent and will continue to focus on giving passengers what they want, especially in areas where satisfaction is lower," he added.
Gerry Doherty, leader of the Transport Salaried Staffs Association, said: "Fewer than half of all passengers believe they are getting value for money from their ticket.
"This is hardly surprising when we have the most expensive rail fares in Europe, a situation that will worsen over the next four years with fares rising annually 3% above inflation because of government cuts."