Why it is tough being a Supreme Court judge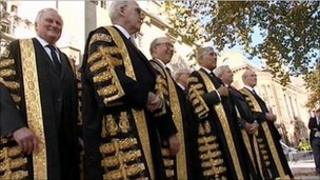 The job description could include sleepless nights, hours of intense reading, having to detach your emotions from your decisions and always being unpopular with some members of the public.
The reality of life as a Supreme Court judge is a world apart from the public perception of men in gowns debating obscure points of law.
It is an immensely varied job which can at times be a real slog for those who have the final say on some of the most controversial and difficult issues in the land.
The judges at Britain's highest court have for the first time spoken to the BBC about how they do their job.
It is still very much a man's world - only one of the 12 judges is a woman in Britain's final court of appeal for cases of major public importance.
Staying awake
Lord Phillips, who is President of the Supreme Court says he is often awake in the middle of the night trying to grapple with some of the complicated legal issues.
He said: "It depends how much pressure I am under but I very often start my day at 5am... Sometimes I wake up even earlier.
"Today I woke up about 3am and got up and worked for a bit and went back to bed and got up again about 5am.
"These are intellectual problems not stressing problems. None the less if you are concentrating very hard on a particular conundrum it doesn't go away, so you have a few hours sleep which you need and then the problem takes over again."
The Supreme Court, housed at Middlesex Guildhall, was set up in 2009 and replaced the Law Lords. The aim was to emphasise the separation between Parliament's lawmakers and the judges charged with overseeing legislation.
During its first 15 months it has made a series of landmark rulings affecting millions of people covering topics from asylum to bank charges. It also cleared the way for MPs to face criminal trials following the expenses scandal.
Not all 12 judges are involved in each ruling but as many as nine could be on a panel for a major decision.
The workload can be intense. Hundreds of pages of complicated argument may need to be read before a hearing that may last two or three days.
During the hearing barristers will put the opposing positions to the judges who will examine their arguments. At the end of each case the judges will decide which one of them will take on the role of writing up the result of their deliberations in a document called the lead judgement.
At that stage it is back to gathering up enormous amounts of written material, cases to revise and new material that has been cited.
Lord Hope, the court's deputy president, admits that when that task falls to him he has to get out of London and return to his roots in Edinburgh where he knows he can get peace and quiet.
He said: "The problem in London is that because we are busy hearing cases all the time you don't get time to settle down and really read and think whereas here I find it very peaceful...
"The kind of work we do is very much an intellectual exercise of identifying issues and working them out according to their quality and their weight and that involves a lot of analysis.
"You need to express yourself very clearly in writing, you have to have a clear idea of the thread you are following and you need to be aware of the audience you are addressing. You are writing not so much for yourself but for other people who are going to have to use the judgement."
Out of touch
The judges reject any idea that they are out of touch - although all 11 men were privately educated. Lord Hope, who went to Rugby School, said some may criticise him for coming from a particular background but it was the only way people could get into law at the time he started.
"I am afraid I am a relic of the old system and people can make of me what they will but that is just how it was."
Lord Phillips added: "We are ordinary people. We live ordinary lives. We take public transport. We, by chance if you like, have ended up in this particular position having started life in all sorts of different walks of life."
Lady Hale is the only woman in the Supreme Court and also the only member not to have been privately educated.
She was the first woman to be appointed to the Law Lords in 2004.
"I don't suppose it did me any harm to be a woman because there does become a stage where it is embarrassing that there is not a woman," she said.
"When you first arrive in this body of very intelligent powerful men it takes time to work one's way in and learn and accept that maybe one could do the job as well as they are doing it.
"My husband sometimes says - well don't you realise they were as frightened of you as you were of them but I didn't see any evidence of that."
When the court ruled on pre-nuptial agreements, Lady Hale found herself in a minority again. She was on a panel of nine and the eight men effectively ruled the agreements should be binding so long as they were fair. But Lady Hale opposed the decision saying such agreements often harmed the woman in a relationship by allowing the man to keep more of his money.
Objectivity is a key requirement for the job of Supreme court judge. They need to be detached but Lord Phillips said judges did understand the emotions of people attached to the cases they ruled on.
"One has enormous sympathy for the individuals. You can see how much these cases mean to them and sometimes you know the decision you are handing down is going to cause them immense distress and that is something that you feel yourself."
The Highest Court in the Land will be on BBC Four at 2100 GMT on Thursday 27 January and available after on BBC iPlayer