Papers digest UK economy figures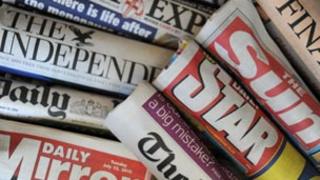 The newspapers have plenty of advice for Chancellor George Osborne, as he deals with the unexpected fall in economic growth.
The Financial Times says self-fulfilling pessimism is avoidable if people know austerity will be delayed should things go worse than hoped.
The Times suggests de-regulating labour and product markets.
It also suggests providing tax incentives and enterprise zones in depressed regions.
Tax incentives
The Daily Telegraph says while cuts are essential to restore public finances, recovery will only come through a sustained stimulus programme.
In the Sun's words, the nation desperately needs tax incentives to encourage entrepreneurs.
The Daily Mail agrees Mr Osborne must do much more to help business but urges him to "keep his nerve" on the cuts.
The Guardian calls for a suspension of many of the cuts and the introduction of schemes to tackle youth joblessness.
The Daily Express highlights government figures suggesting that three-quarters of claimants for sickness benefit are fit to work.
Oscar excitement
The sacking of the Sky Sports presenter, Andy Gray, makes the lead for the Daily Mirror and the Sun.
The Mirror suggests a better way might have been to insist that Mr Gray treat female colleagues and officials with respect - and fire him if he refused.
But the Sun takes a different view, stating he deserved to be sacked.
There's great press excitement at the strong British showing in the Oscar nominations - particularly the 12 for The King's Speech.
The Guardian asks: "Will Hollywood bow to the King or aim for True Grit, with ten nominations?"
The Times has what it calls that familiar lurching feeling when England play in the World Cup.
Similarly, with The King's Speech at the Oscars, it says, we know we can do it, but can we, will we do it?