Lord Macdonald: UK 'over-reacted after 9/11 attacks'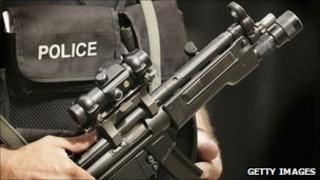 The UK over-reacted after 9/11 and the London bomb attacks, according to the man who oversaw the government's review of counter-terrorism powers.
Lord Macdonald told the BBC: "I think we saw some powers, some laws, enacted which did go too far."
His comments come as the government prepares to publish its long-awaited changes to counter-terrorism powers.
The review is also expected to propose replacing control orders with a series of measures to monitor suspects.
In addition, counter-terrorism-related stop and search powers are likely to be curbed.
The BBC understands the replacement for control orders will have a time limit of two years, but it is not clear whether current controlees would be subject to that limit.
The changes have been repeatedly delayed as coalition ministers struggled to agree changes.
Security and freedom
Lord Macdonald, a former director of public prosecutions, said that "traditional ideals" had been sacrificed in the push against terrorism, and a balance had to be drawn between security and freedom.
He said there had been an element of over-reaction, meaning British institutions became a "symbol of hypocrisy" around the world.
"I think there's a wide feeling about that across political parties - across political ideologies - and this review has been an attempt to redress that.
"It's always been of critical importance that we don't, in trying to respond to these threats, give up the things that the terrorists would like to take from us.
"In other words we don't want to give up the battle without a shot being fired. We want to protect our constitution, we need to protect our way of life, and we need to get this balance right, and I think that is what the review has been trying to achieve."
The existing control order regime will stay in place until December 2011, the BBC understands.
It is expected that MPs will have to vote to renew the current legislation in March.
The current system has been defended by the outgoing independent reviewer of anti-terrorism legislation, Lord Carlile, who told the BBC control orders had protected the public.
The Home Office launched the review in July 2010, saying it would be rapid and would be aimed at reconciling counter-terrorism powers with civil liberties.
The parties agreed to scrap the power of police to hold a suspect without charge for 28 days - and the time limit has now reverted to the original 14 days, after ministers decided not to renew the legislation this month.
There are also expected to be changes to counter-terrorism stop and searches, by permitting their use only in narrow and specific circumstances, such as during the 2012 London Olympic Games.
However, the coalition has struggled to reach a deal on the future of control orders - the controversial powers to restrict the movement of a small number of suspects who the government says cannot be prosecuted or, where they are foreign nationals, deported.
Security chiefs say the power is an essential tool in cases where there is intelligence that someone is involved in extremism but has not yet committed a crime, such as someone associating with known plotters.
The coalition ministers appear to have reached a deal to scrap control orders - but leaks in recent weeks have led critics to say the new system is little more than "control orders lite".
The new restrictions are expected to include electronic tagging and a ban on overseas travel and visits to specific places or people.
The current regime of curfews of up to 16 hours is expected to be replaced by a more limited overnight home residency requirement.
Other control order restrictions expected to be ditched include the power to move a suspect away from their home town..
The government is expected to say the changes will strike the right balance between security and liberties by being specific and proportionate to the threat.
Former Labour security minister Lord West said he was pleased the government was, in effect, keeping control orders.
He told BBC Radio 4's Today programme: "I'm very pleased that the coalition are not actually getting rid of control orders. The fundamentals of having to keep a very close eye on people are still there.
But he added he had "real concerns" about the level of resources for police to keep tabs on suspects.
Lord Carlile, who is stepping down as the government's independent reviewer of anti-terrorism legislation, defended the use of control orders.
"It's art not science. You know, when we started this period of counter-terrorism law following 9/11 there were bound to be mistakes, it's reasonable to make mistakes," he said.
"But... every person who is subject to a control order at the moment has been found by a judge to be rightly suspected of being a terrorist."
Cerie Bullivant, who was under a control order from 2006 to 2008 until it was quashed by a High Court judge, welcomed the relaxation of some measures, such as curfews and that controllees will no longer have to move away from their home town.
However, he said further changes were needed.
"As long as we still maintain secret evidence and secret courts we're still feeding into the future radicalisation of young people within our own communities."
Alex Deane, the director of Big Brother Watch, which opposes restrictions on people's liberty, said : "There must be a trial process for anyone who is accused of this sort of thing, or not."
"These orders were introduced on the basis that they were for people who couldn't be deported but weren't British nationals. Now, every single controlee is a British national. Every single person on a control order is British.
"The purpose for these orders has changed completely since they were introduced and Parliament really has been hoodwinked."
Writing in the London Evening Standard ahead of the review's publication, shadow home secretary Yvette Cooper indicated the opposition could support measures that it believed were in the national interest rather than coalition politics.
"This review should be a chance for the home secretary to lead a serious debate and build a new consensus," she said.