British soldier killed in blast in Helmand province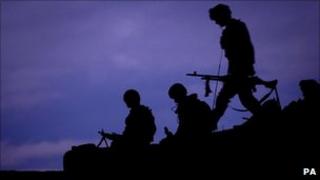 A British soldier has been killed in a blast in southern Afghanistan, the Ministry of Defence (MoD) has said.
The member of the 2nd Battalion The Parachute Regiment was hit in the Nahr-e-Saraj district of Helmand province. His next of kin have been told.
Task Force Helmand spokesman Lieutenant Colonel David Eastman said he died fighting oppression and intimidation, and would not be forgotten.
The number of UK military deaths in Afghanistan since 2001 stands at 350.
Lt Col Eastman said: "The soldier was assisting in the clearance of an area to the south of Nahr-e-Saraj in order to provide a safe and secure environment for the local population, when he was hit by an explosion.
'Deeply sad'
"He has given his life in the service of others, fighting oppression and intimidation - no more could be asked of any soldier.
"Our thoughts are with his friends and family at this deeply sad time. He will not be forgotten."
Of the 350 British deaths in the country, 309 were as a result of hostile action. A further 41 died from illness, non-combat injuries or accidents, or have not yet officially been assigned a cause of death.
From the beginning of January 2006 to the end of last year, there were a further 1,580 UK military and civilian personnel admitted to field hospitals after being wounded in action, MoD figures showed.
Of those, 240 were "seriously" injured and 232 "very seriously" injured, meaning their life was at risk.
British military leaders say the handover of security to Afghan forces is still on course for 2014.