7/7 inquests: Victim 'pushed' to get on doomed bus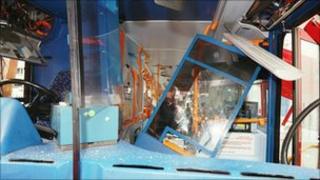 A survivor of the 7/7 bus bombing has told how a friend persuaded her to get on the packed Number 30, only to be killed minutes later in the blast.
Emma Plunkett told the inquests she suggested to Shahara Islam that they wait until the queues for buses at London's Euston station had died down.
But Ms Islam, 20, insisted they "push" to get on, and found herself sitting next to suicide bomber Hasib Hussain.
She was one of 13 people killed when he detonated his device.
Hussain's bomb was the fourth to go off on 7 July 2005.
In total the four suicide attackers killed 52 people on three London Underground trains and the bus.
'Let's push'
Miss Plunkett told the inquests she was on her way to work in Islington, north London, when she forced to get off the Tube at Euston due to the earlier bombings.
There she bumped into her friend and colleague Miss Islam, and asked her if she wanted to get a coffee before trying to board a bus because the station was "heaving".
"She said 'No, come on, let's push,"' Miss Plunkett said.
Once on board, Miss Islam, from Plaistow, east London, sat down directly across the aisle from Hussain, while Miss Plunkett took the window seat.
She told the inquests she had no memory of the bomber and spent the moments before the blast in Tavistock Square talking to "Shaz" about what they thought had been a power surge on the Underground.
"We were saying there's no way London could cope with the Olympic Games, that all it takes is a power surge and this happens," she said.
"I didn't remember anything of the explosion.
"One minute I was talking to Shaz and the next minute I was lying on the road."
Miss Plunkett, who lived in Surrey at the time, landed half under a taxi, and said she remembered the driver, Scott Kelman, getting out to help her.
"I remember someone running past me and saying I was one of the lucky ones as they ran off," she added.
The pressure on the emergency services caused by the three earlier attacks meant it was at least 60 minutes before ambulances were available to take victims from the bus to hospital.
Barrister Andrew O'Connor asked Dr Ben Teasdale, one of the medics at the scene, whether he was concerned about that delay.
"I don't remember that as a conscious thought," he replied.
"I think, given everything that went on that day, I think everybody was doing the very best they could under difficult circumstances, and clearly everybody was stretched, traffic was bad, communications weren't great."
Samantha Lott, another witness who was walking through Tavistock Square when the blast happened, told the inquests about the horrifying scene around her in the immediate aftermath.
She said she saw body parts lying on the ground beside the bus, and blood on the walls of a nearby building.
No medical degree
Meanwhile, the inquests heard details of a woman who lied about her role in the aftermath of the bus bombing.
A statement made by Richmal Oates-Whitehead - in which she described helping to treat a number of casualties - was read to the court, but coroner Lady Justice Hallett said that did not mean its entire contents were accepted as the truth.
Miss Oates-Whitehead had claimed to journalists that she was a qualified doctor with 15 years' experience, but in fact, she had no medical degree and was really an editorial clinical director for the publication BMJ Knowledge, based in Tavistock Square.
She claimed to have pronounced someone dead on the bus itself, and barrister Neil Saunders said there had been concern among the relatives of that woman - thought to be Shyanuja Parathasangary - that more could have been done to help her.
However, he said that having investigated thoroughly, there was "no suggestion whatsoever other than that Shyanuja died immediately" in the explosion.
After receiving a tip-off about Miss Oates-Whitehead's background in early August, her employers began an investigation, but she died of natural causes on 17 August 2005.
The inquests are expected to last until March.