Moscow bombing: British victim due to get married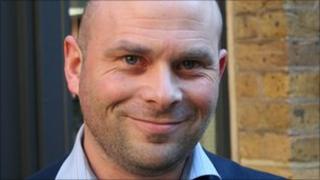 The British victim of the Moscow bomb attack was due to get married at the end of April and had a six-month-old daughter, it has emerged.
Gordon Cousland's brother Robin told the BBC his family was "devastated" at the news of his death.
Mr Cousland was among 35 people killed in a suspected suicide bomb attack at Moscow's Domodedovo airport on Monday.
A Russian management consultant based in London, Kirill Bodrashov, is also believed to have been killed.
'Get-up-and-go man'
The blast hit the airport's busy international arrivals hall at about 1630 local time (1330 GMT). More than 100 people were injured.
Two flights from London Heathrow had arrived just before the explosion, but earlier reports by Russian authorities of a second British victim have been ruled out by the Foreign Office.
Mr Cousland, who worked as a property analyst for marketing, property and IT firm CACI, was caught up in the attack as he arrived in Moscow for a business trip.
His brother told the BBC: "We're all just completely shocked. It's devastated the family.
"He recently got engaged. He had a young six-month-old baby and was due to be married at the end of April."
Speaking at his home in Scredington, near Sleaford, Lincolnshire, Mr Cousland said his brother travelled a lot for work and was "very successful" in his chosen profession.
"He was a get-up-and-go man, nothing fazed him," he said.
"The job he was in took him around the world. Normally he would phone up to say he had got there safely, but he didn't phone."
In a statement his colleagues in the London office of CACI said they were "deeply saddened" at the loss of "a respected colleague and friend".
"Gordon, who worked at CACI for three-and-a-half years, was instrumental in setting up our European business and was well-known in the property industry," they said.
"He had tremendous energy and enthusiasm for his clients' projects and will be sadly missed by colleagues, friends and associates alike."
Mr Bodrashov was with partner Elvira Muratova, 40, on a business trip for executive search firm New Millennium Group when the attack took place.
They had a young son and lived in Queen's Gate, Kensington.
Travel advice
Many in Russia suspect militants from the North Caucasus of the bombing, and unnamed officials said three suspects were being sought over the attack.
Other Britons who were in the airport at the time described hearing "an almighty explosion" and seeing casualties covered in blood.
Prime Minister David Cameron has pledged his complete support to the Russian authorities as they try to track down those responsible.
In its travel advice the Foreign Office said the airport was now open, but advised passengers to check with their airline before travelling.
British Airways said its three daily flights were running again, and BMI said its two daily flights were also running.
People concerned about relatives who were on flights into the airport on Monday should contact the Foreign Office's 24-hour phone line: 020 7008 1500.
BMI's helpline is 0800 014 8914 or 00 1786 437 8764 from outside the UK.