Royal wedding: Should the royals have real jobs?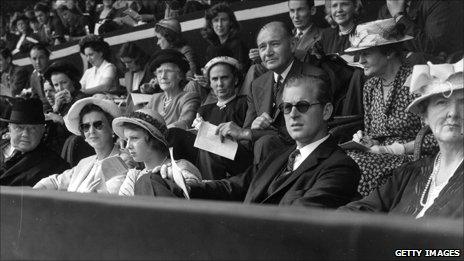 To work in the real world or not - it's a question that has troubled members of the British Royal Family for decades. In the week it was reported that Kate Middleton has quit her job at her parents' party supplies company, BBC royal correspondent Peter Hunt examines the pros and cons of royals keeping their careers.
To its originator, the idea may have appeared inspired. Once it was exposed to the cold light of day, it withered on the vine of royal non-starters. Back in 1948, someone suggested Prince Philip should spend a month working as a coal miner. The tentative plan was rejected as a "stunt" which would "play to the gallery".
Sixty years on, such a subterranean experience will not be on offer to his grandson's fiancee. But the quickly aborted proposal of placing a prince with the working man, highlights how officials have wrestled with this challenge - what to do with a royal?
At first, Prince Philip was fulfilled working as a naval officer on the Mediterranean island of Malta. However, an ailing King meant he had to abandon his promising career and ultimately walk two paces behind his wife, when she became Queen.
In the 1950s, Philip, an alpha male, struggled initially with the lack of a defined role. "Constitutionally", he once remarked, "I don't exist".
Two decades later, his son, Prince Charles was similarly vexed. He sought a purpose, as he awaited his destiny. His desire to spend three days working in a factory was yet another of those ideas which never took flight from the royal drawing board - along with tentative thoughts about making him Governor General of Australia or Britain's Ambassador to France.
The problem is possibly more acute for those marrying into the Windsors. The price of privilege is an abandonment of some of what they'd previously held dear. When Sophie Wessex joined the Firm she thought she could continue working in public relations.
But the Countess had reckoned without the intervention of the News of the World's infamous "fake sheikh". He secretly recorded her at work.
She made less than flattering comments about Tony Blair and William Hague and, as a result, eventually, she abandoned her PR firm. Her husband, Prince Edward also gave up his television production company. Both discovered, to their cost, that royals and certain high profile jobs don't mix. The Countess of Wessex has taken refuge in a life as a mother and as a supporter of chosen charities.
So, Kate Middleton has the recent royal past as a guide. She has already been criticised by some for being a university educated woman in the 21st Century who waited for her man, rather than pursuing a career.
Responding to this criticism - and the label "Waity Katy" - she has insisted that she has been gainfully employed at her parents' lucrative mail-order firm. As she said in her engagement interview, "I know I've been working very hard for the family business. Sometimes those days are long days".
Those days are now behind her. It was reported this week that Kate had left her job, although she actually quit at the end of last year.
She will have to decide what will replace her work, post-wedding. She also knows she has to produce an heir - ideally, at least two.
It's likely this princess-in-waiting will focus on life as a full-time senior royal. It's safer that way. She'll take on charitable causes. Many have sought her patronage. None has yet been chosen.
She has, for now, time on her side. Prince William is only second-in-line to the throne. He, of all people, wants to approach things cautiously and slowly. There'll be much talk of Kate "learning the royal ropes". William bears the scars of the past. With Kate by his side, Diana's son wants to benefit from the lessons of recent history - not repeat them.