More than half of Asbos issued since 1999 breached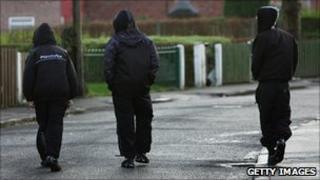 The number of anti-social behaviour orders that have been breached has topped 10,000, Home Office figures show.
That works out at 56% of all Asbos issued between 1999 - when the measure was introduced - and 2009.
In 2009 - the latest year for which data is available - 1,671 Asbos were issued and 1,133 were breached.
Ministers say Asbos are "bureaucratic and don't work effectively", and are due to set out new powers shortly.
'Move beyond Asbos'
According to the Home Office, a total of 18,566 Asbos have been issued since April 1999 - and 10,380 have been breached at least once.
Within that, 67% of orders given to those aged under 18 have been breached, and 50% of those given to over-18s.
Twelve to 14-year-olds were those most likely to flout the conditions of their Asbo.
Overall, between 2000 and 2009, 73% of the 1,722 orders given to that age group were breached.
Among 15- to 17-year-olds, a total of 5,385 Asbos were issued between 1999 and 2009, and of those, 3,505 - around 65% - were breached.
In July last year, Home Secretary Theresa May said it was "time to move beyond" Asbos.
Following the release of the latest figures from 2009, her department reiterated that message.
"As the home secretary has said, the current tools and powers for dealing with anti-social behaviour are too bureaucratic and don't work effectively," a Home Office spokesman said.
"We will soon be consulting on new proposals to tackle anti-social behaviour following our review of tools and powers."
Asbos are civil, rather than criminal, orders imposed on individuals by the courts, and aimed at banning them from engaging in specific kinds of behaviour or going to certain places.
Breaching an Asbo can result in a criminal punishment of up to five years in prison for an adult or two years in youth custody for a juvenile.
The total number of Asbos issued in 2009 was the lowest for six years.