Anglican archbishops to boycott primate meeting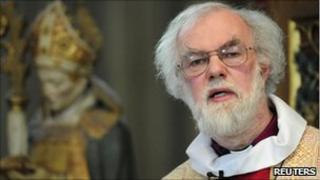 A meeting of Anglican leaders in Dublin is expected to be boycotted by up to a third of those invited.
Their protest is at the inclusion of the head of the American Episcopal Church. Her church has ordained gay bishops and blesses same sex couples.
Some traditionalist archbishops want sanctions to be imposed against the American branch of the Communion.
The Dublin meeting is of the 38 leaders, or primates, of autonomous Anglican churches around the world.
The Episcopal Church in the United States - headed by Presiding Bishop Katharine Jefferts Schori - has recently defied other Anglican churches by ordaining a lesbian bishop, and authorising services for the blessing of same-sex relationships.
The archbishops boycotting the meeting have become disillusioned by what they see as the failure to act on views they have expressed in the past.
Some have called for the Archbishop of Canterbury, Rowan Williams, to be replaced as the figure around which the Communion unites.
According to BBC religious affairs correspondent Robert Pigott, the boycott reflects growing frustration among traditionalist archbishops - several from Africa - about what they see as the lack of effective sanctions against the American church.
Worryingly for Dr Williams, the absent primates will include at least three normally considered moderate, our correspondent added.