Moscow bombing: British worker Gordon Cousland killed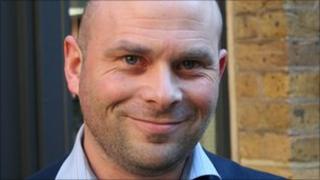 One British citizen was among 35 people killed in a suspected suicide bomb attack at Moscow's Domodedovo airport, the Foreign Office has said.
The Briton was named as Gordon Campbell Cousland, who worked as an analyst for marketing, property and IT company CACI.
Earlier reports by Russian authorities that another of the victims was British was ruled out by the Foreign Office.
Two flights from London Heathrow had arrived just before the explosion.
The blast hit the airport's busy international arrivals hall at about 1630 local time (1330 GMT). More than 100 people were injured.
'Sadly missed'
The Foreign Office said it could not categorically say no other Britons had been killed, as not all the bodies had yet been identified.
It said it was in contact with Mr Cousland's next of kin, and was providing consular assistance.
Mr Cousland's family, from Scredington, near Sleaford, Lincolnshire, have been asked to be left alone by the media.
CACI company spokesman Ian Thurman paid tribute to Mr Cousland, saying he had put in an "amazing amount of effort to open up the Eastern European property market" and would be sadly missed.
He offered his condolences to his family and friends.
Many in Russia suspect militants from the North Caucasus of the bombing, and unnamed officials said three suspects were being sought over Monday's attack.
One UK traveller, Mark Green, had arrived on a BA flight and said he had left the arrivals hall two minutes before the blast.
He told the BBC that as he and a colleague were putting their bags into their driver's car, there was "an almighty explosion".
He said the blast had caused snow to fall from the roof of the terminal, resembling "an avalanche coming down".
After about 30 seconds people had started running outside, some of whom were injured and covered in blood, he said, adding: "People were obviously in a state of shock and panic."
Another BA passenger, Jeremy Spencer, was waiting at passport control when the bomb went off.
He told the BBC: "There was a very loud boom. Then the floor shook, the ceiling shook and debris was coming down.
"You could see the emergency services all round the airport.
"We were 100 metres away. Probably not even that."
In its travel advice the Foreign Office said the airport was now open, but advised passengers to check with their airline before travelling.
British Airways said its three daily flights were running again, and BMI said its two daily flights were also running.
Prime Minister David Cameron spoke to Russian President Dmitry Medvedev on Monday and told him "we should never allow the terrorists to win", a Downing Street spokesman said.
"He offered his condolences and sympathies to all those who had been affected by what he described as an 'appalling attack'," he said.
"The prime minister assured President Medvedev of his complete support and said the Russian authorities could count on Britain for any assistance they needed."
Helplines
Two flights from London Heathrow, British Airways flight BA872 and BMI flight BD891, landed shortly before the explosion.
A subsequent flight from London to Moscow - BA874, which left London at 1230 GMT - was turned back towards the UK.
People concerned about relatives who were on flights into the airport should contact the Foreign Office's 24-hour phone line: 020 7008 1500.
BMI's helpline is 0800 014 8914 or 00 1786 437 8764 from outside the UK.