7/7 inquests: Jailed fireman praised for his bravery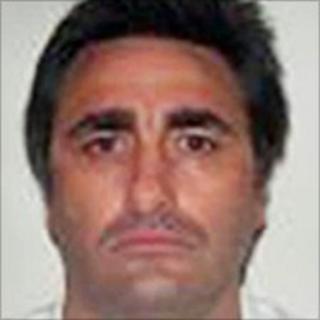 A fireman serving a 14-year jail sentence for drug smuggling was praised for his courage in rescuing victims of the 7 July bus bombing.
The coroner at the inquest into the Tavistock Square bomb told Simon Ford no-one could doubt his bravery "whatever has happened since 2005".
Speaking via video link from an unnamed prison, Ford said he and a colleague had ripped metalwork off a passenger.
Thirteen people were killed on the bus by suicide bomber Hasib Hussain.
The 18-year-old was one of four suicide bombers who killed a total of 52 people in the four separate attacks on 7 July 2005.
Felt 'isolated'
Ford, 41, told the inquest he and his colleague had used their hands to pull parts of the bus off Sam Ly.
The 28-year-old computer technician from Australia had been sitting downstairs on the number 30 bus when part of the upper deck collapsed on top of him.
"He had some of the bodywork and some sort of metal pipe blocking him from coming out easily," he said.
"The bomb had weakened the structure of the bus so I was able to tear some of the bodywork.
"He was in and out of consciousness, and I thought he died in our arms. But I have found out it was a week later.
"But it was upsetting, I thought he had gone."
Ford and fellow fireman Kevin Hume also freed a woman and another man, using one of the bus's blown-out windows as a makeshift stretcher.
He said other members of his shift had been sent to deal with one of the Tube attacks, and so he felt "isolated" and unable to discuss his experiences with them. He said he was off work with stress for five weeks.
He had received a London Fire Brigade Gold Award for his bravery but after the 7/7 attacks he suffered personal problems and became a cocaine user.
Ford was one of 33 people convicted for being part of a drugs and money laundering operation. He was arrested in February 2008 after being caught at his flat in Chertsey, Surrey, with 110kg (243lb) of cocaine, worth about £5.5m.
Coroner Lady Justice Hallett thanked him for all he did on 7 July.
"Mr Ford, whatever has happened in your life since 2005, no-one can doubt the courage you displayed on July 7 2005," she said.
"I do appreciate your being prepared to help me in these proceedings. I know it means a lot to the bereaved families and to those who you helped rescue."
'Terrible smell'
The inquest also heard on Monday that survivors of the bus bombing looked like "zombies" as they stumbled around after the blast.
Carlos Daravina, then head porter at the British Medical Association (BMA) in Tavistock Square, described seeing victims "crawling on the floor" and others walking into his building "covered in blood".
He told the inquest: "I saw a bus that was blown up and ripped apart.
"There was a lot of mess, a lot of rubbish around, and also a lot of people crawling on the floor.
"And some people were coming into the building like zombies, like they didn't know where to go.
"There was a lot of smoke and a terrible smell, and people covered in blood."
Mr Daravina helped carry casualties away from the scene using tables from the BMA's committee rooms, and ferried medical supplies to those treating the wounded.
Coroner Lady Justice Hallett told the hearing at the Royal Courts of Justice in London it was not just the doctors who had played a significant part in helping the injured.
"You worked tirelessly throughout the day to get equipment - even if it was makeshift - to the doctors and to the casualties," she said.
Another member of BMA staff, Terry Hughes, told the inquests how he helped to cut a roll of felt used by the association's events team into 30 makeshift blankets for the wounded.
The inquests into the four attacks are expected to last until March.