Drug sold in UK to be used for execution in Georgia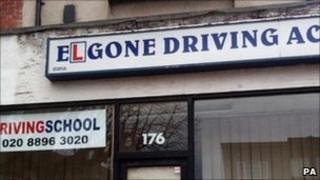 Drugs supplied by a UK pharmaceutical company are to be used to execute a convicted murderer in the US state of Georgia on Tuesday, the BBC has learnt.
Emmanuel Hammond will be executed with anaesthetic sodium thiopental, which Reprieve UK says was supplied by Dream Pharma, based in Acton, west London.
The firm's sole shareholder, wholesaler Mehdi Alavi, 50, declined to comment.
Business Secretary Vince Cable introduced a ban on the export of sodium thiopental in December.
Documents obtained by Reprieve UK, which campaigns on behalf of death row prisoners, show that Georgia received a shipment of sodium thiopental used in executions from Dream Pharma - which is based at a west London driving school - late last year.
The charity says other documents show Mr Alavi also supplied California with enough drugs for 85 executions, and that he has supplied at least four other states with execution drugs.
'Immense pain'
Earlier this year Mr Alavi said he had "no idea" why one US prison had ordered the sodium thiopental and two other drugs from him.
But Reprieve UK has released a document which appears to have been sent to Mr Alavi in September last year, informing him that the purchaser "uses thiopental injections to carry out capital punishment".
Sodium thiopental, an anaesthetic, is used in a massive dose to induce a coma in condemned prisoners, before two other drugs are used to kill them.
But Clive Stafford Smith, director of Reprieve UK, said there were issues about whether the drug was fit for purpose.
"If you use an anaesthetic that for example someone has an allergic reaction to, it causes them immense pain instead of anaesthetising them.
"Also if these drugs weren't kept properly, so therefore weren't stored, the same can happen.
"There is a great deal we can do if we can move quickly on it. We can save lives - including the life of Emmanuel Hammond," he said.
Reprieve has called on the UK government to intervene and appeal to the US, to prevent the execution of Hammond, who was convicted of murder 23 years ago.
Mr Cable is considering bringing in a ban to prevent UK firms exporting two other drugs used in lethal injections.