Sunday papers ponder dramatic week in British politics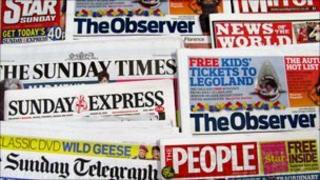 In a week that saw the resignations of Alan Johnson and Andy Coulson, most of the Sunday papers think it has been a tumultuous week in British politics.
The Sunday Times sums it all up with the headline "Turmoil at Westminster".
Dramatic events rocked both Labour and the Tories, the Sunday Express says.
For Andrew Rawnsley in the Observer there were so many comings and goings it was not so much "a week is a long time in politics" as "a day is a long time in politics".
Hacked off
After the News of the World phone hacking allegations, some papers report other tabloids are facing legal claims.
The Observer has been told by a lawyer he is representing four people who think they were targeted by newspapers.
Mark Lewis goes on to say the illegal interception of voicemail messages was "widespread practice".
Meanwhile, the Independent on Sunday says Gordon Brown has asked the Metropolitan Police to investigate whether he was a victim.
Forest appeal
The Sunday Telegraph's main story says almost 100 leading public figures have signed a letter calling on the government to reverse its decision to sell off publicly owned forests.
Among the signatories are Dame Judi Dench and the author Bill Bryson.
The Sunday Mirror reports hospitals are axing free ante-natal classes, charging £100 instead.
The paper warns the result will be more women having difficult births and possibly putting their babies at risk.
Postboxes 'at risk'
In other news, the Independent says traditional food shops are experiencing their strongest sales in years.
It says a boom in business for bakers, butchers and fishmongers is breathing life back into the High Street.
Finally, the Mail on Sunday warns Britain's red postboxes are at risk from plans to privatise Royal Mail.
New owners would be free to redesign the boxes, drop the royal "ER" monogram, use advertising slogans or paint them a different colour, it says.