Survey finds opposition to privatisation of forests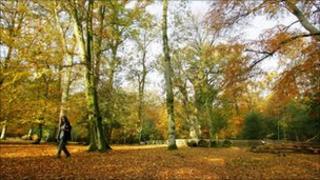 A majority of the public opposes plans to sell some of England's forests, a survey suggests.
Three-quarters of the 2,000 polled by YouGov for the 38 Degrees pressure group said they were against the plans.
Ministers want to transfer power from the Forestry Commission, which owns 18% of woodlands, to the private sector, saying this will boost public control.
A public consultation begins next week and a bill to enable the sale is due to go before the House of Lords.
Earlier this month, hundreds of people gathered in the Forest of Dean in Gloucestershire to protest about the possible sale of parts of the public woodland.
David Babbs, executive director of 38 Degrees, which commissioned the poll, said the results were evidence that most English people want woodlands protected for future generations and for wildlife.
He said a government consultation over the 150,000 hectares of land - which is due to set out the government's preferred options for the future of the nation's woodlands next week - was "asking the wrong question".
"They are asking us how the forests should be privatised. But most of us don't want our forests privatised at all."
More than 160,000 people have signed an online petition opposing any Forestry sell-off, he added.
"More people visit our woodlands each year than visit the English seaside.
"These are national treasures and we are very worried that if our public woodlands are broken up and privatised, that would mean a significant reduction in both public access to the woodland and in the standards of care for the woodland wildlife that lives here."
Joe Twyman of YouGov said three-quarters of the 2,000 people polled online opposed the plans, while 84% agreed with the principle that forests should stay in public ownership.
"We have very high figures supporting the status quo, there really is among the general public no desire for change," he said.
But Sue Holden of the Woodland Trust said public/private ownership was not the key issue because some owners would be sympathetic.
"We want to see enhanced protection for all woods before selling off starts and some of the capital made from sales of these forests returned for public good," she added.
In October, the Department for Environment, Food and Rural Affairs said its plans were a "new approach to ownership and management of woodlands and forests, with a reducing role for the state and a growing role for the private sector and civil society".
It said it envisaged "a managed programme of reform to further develop a competitive, thriving and resilient forestry sector that includes many sustainably-managed woods", adding that it was committed to biodiversity and other public benefits.
BBC News website readers have been sending in their reaction to this story. Here is a selection of your comments.
I live in Kent, which together with Surrey and Sussex, is one of the the most wooded counties in England Forestry Commission land. It is a key resource for leisure activities from Bedgebury to Kings Wood. These sites are well used by local people, the woodlands are sympathetically managed for wildlife and conservation of key species which includes co-ordinated management and felling. No way should this be split up and sold to the highest bidder. These woods, forests and plantations belong to the people of Britain. David Terry, Canterbury, Kent
Woodland does not 'belong' to people. We are stewards who safeguard it for the benefit of all creatures. The idea of our remaining precious public access woodland being sold off to the super rich to barr families who enjoy being in the woods is totally unthinkable. This government is taking reckless, far-reaching decisions, which will impact on many generations to come. Once the woodland is sold off that's it - there is no going back. Martin Holme, Ashford, Kent
I live in the Forest of Dean and am a member of the board of the local strategic partnership. We have an excellent working relationship with the local head of the Forestry Commission who has his office in the Forest of Dean. He and his predecessor have managed the forest extremely well as a managed and sustainable resource, a haven for wildlife and as an excellent leisure facility for locals and visitors alike. The local feeling is very strongly anti any change in ownership or management, on the basis of 'if it ain't broke, don't fix it'. We welcome the national support this has attracted and look forward to keeping our forest the way it is, for future generations. Frank Baynham, Coalway, Gloucestershire
I am devastated at the proposal to sell off our woods. I have just been reading about the various killer diseases that are now in the UK killing off our beloved oaks and horse chestnuts, among others and this is the last straw. It must be stopped. Trees have never needed more help. Carolyn Greenaway, Hove, East Sussex
I get what the government is trying to do - at least what they say they are trying to do - by selling this land for private ownership. They think that if the land is owned then it will be protected and respected more because the general population needs the concept of private ownership to care about the environment. At least that's the idea they're hiding behind but according to this survey, most people don't think privatisation should happen. So if that is the situation with public opinion where is the need to resort to this half measure? It looks like the public are ready to value the environment for what it is regardless of private ownership, so why does it need to leave the care of the Forestry Commission? Debbie, Peterborough, Cambridgeshire
Why are the public wary of the privatisation of national forests, because privatisation invariably means exploitation and development. The British public have not done well in recent years from privatisation of what we thought were national assets, energy or water. We cannot again be a secondary consideration to shareholders and large profits and salaries. So please leave these national assets for our descendents to enjoy in perpetuity. John Strouden, Bournemouth, Dorset
I live in the Royal Forest of Dean. I walk it every day and although I have a number of issues with the way it is presently managed it would not help to sell it to people who only wish to make a profit from it and take no notice of the needs of the local people. The Tories are selling what they can as they did with the railways. Will they never consider the people who elected them? Leslie Henson, Cinderford, Gloucestershire
It has taken years of campaigning by small groups to open up public access to forest and heathland in the UK. Now this government wishes to sell off my property, against my wishes. In my experience, private owners of woodland take every effort to exclude the public, even bodies such as the National Trust and RSPB. If there is a problem with profitability of national woodlands, the answer lays in sacking the management, not in selling the silver. Barry, Havant, Hampshire