Terror suspect Abid Naseer US extradition approved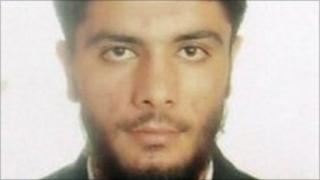 A judge in London has approved the extradition to the US of an alleged al-Qaeda operative accused of planning attacks in the UK and America.
Abid Naseer, who has denied being involved in terrorism, was told by Westminster Magistrates' Court that he should stand trial in the US.
The 24-year-old Pakistani was among 11 men held in 2009 accused of a plot in Manchester.
Lawyers for Mr Naseer say they will appeal against the ruling.
District Judge Quentin Purdy approved the US's application for extradition and the case will now go to the home secretary for approval.
The suspect, who wore a brown shirt in court, stroked his beard and showed no emotion as the judgement was read out. Asked by Judge Purdy if he understood that he could appeal, he replied: "Yes sir, thank you."
Mr Naseer originally came to the UK on a student visa and studied in Manchester and Liverpool. In 2009, he was arrested on suspicion of being a key player in an alleged plan to attack unspecified targets in Manchester.
He, along with the other men, was released without charge.
The home secretary's subsequent attempt to deport Mr Naseer to Pakistan was blocked by the courts on the grounds that he could be tortured.
But in July last year, the US said it wanted to put Mr Naseer on trial for his part in alleged plots to plant bombs in the UK, New York and Norway.
The US said that that Mr Naseer was operating under the direction of al-Qaeda and was the UK contact in a broad international network, allegations he denies.
Mr Naseer's possible extradition is unlikely to happen until after the European Court of Human Rights has ruled on a string of similar terrorism-related extradition cases.
The men in these cases, one of whom is the radical cleric Abu Hamza, argue that their human rights would be breached if they were transferred to a "supermax" prison in the US.
Lawyers for Mr Naseer have further argued that his extradition should be halted because the US could later deport him to Pakistan.
If that were to happen, they argue, he could be tortured or killed by Pakistan's secret services, even though the British courts have taken steps to protect the suspect from such a fate.
Judge Purdy said: "I am not of the view the US judicial system is indifferent in providing appropriate intervention [where there is a risk that someone will be ill-treated]."