London 2012 Olympics fears over Nimrod plane scrapping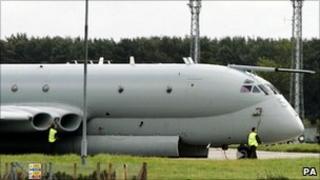 The decision to scrap the new Nimrod MRA4 surveillance aircraft has prompted fears that it may leave a gap in security at the 2012 Olympic Games.
The nine planes had been due to play a major role in counter-terrorism from next year, but are now set to be axed as part of the defence cuts.
Angus Robertson MP said it meant "you can't protect the Olympics properly".
The Ministry of Defence (MoD) said the decision to scrap them was a difficult one, but will not be reversed.
The decision to scrap the aircraft was part of the coalition government's defence review, which was aimed at saving £2bn in operating costs over the next decade.
The planes had been due to go into service next year and play a key role in counter-terrorism at the Olympic Games.
But, starting next week, private contractors will begin to dismantle them at an extra cost to the MoD of £200m.
BBC Defence Correspondent Caroline Wyatt said senior defence figures have "already admitted to being uncomfortable with losing the aircraft's unique capabilities".
Mr Robertson, the Scottish National Party's defence spokesman whose constituency includes the Nimrod base at RAF Kinloss, has called for the decision to be reversed, terming it "utter madness".
He said: "If these aircraft are scrapped and sent to landfill, [it is] not just a waste of £3.5bn of taxpayers' money, but it means you also have a capability gap. It means you can't protect the Olympics properly, it means you can't provide the coastal or maritime patrols that are required."
Unveiling the strategic defence review in October, Prime Minister David Cameron said defence spending would fall by 8% over four years.