Newspaper review: Johnson's shock departure analysed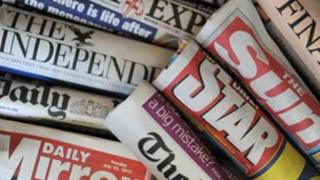 There is considerable speculation about the reasons for Alan Johnson's sudden departure as shadow chancellor.
He said he resigned for "personal reasons" and the papers have differing claims about his private life and various reports of marital problems.
The Times talks of Mr Johnson's "private agony".
According to the Daily Telegraph, his decision has thrown Labour into turmoil, and represents a severe blow to Ed Miliband.
'Sharp mind'
The Guardian says his resignation was also prompted by a disenchantment with the direction of economic policy in the Labour Party.
Labour leader Ed Miliband fought to persuade him to remain in post, according to the paper.
Ed Balls is the new shadow chancellor and the Financial Times says the "combative" minister is Labour's "sharpest economic mind".
The Daily Mirror warns George Osborne: "The easy ride is over."
Mighty pen
Conservative ministers are plotting to oust the Commons speaker John Bercow, according to the Daily Mail.
The paper quotes senior Tory sources and says there is "growing anger at his partisan conduct"
Several papers report research which has apparently found pupils who write by hand learn better than those who type their work on a computer.
It gives the Daily Express the chance to remark that "the pen is mightier than the keyboard".
By three noses
An editorial in the Sun considers what it calls "rocketing fuel prices".
If the prime minister had stuck to his party's pre-election pledge to cut the tax as the price rose, everyone would be happy, the paper says.
The Daily Mail has a picture of a remarkable treble win at a greyhound race at Romford in Essex.
Three dogs crossed the line at the same split second - described by a bookmaker as "like winning the National Lottery and then getting struck by lightning".