Call for British Transport Police to be armed with guns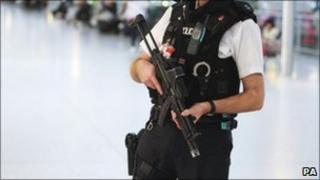 Senior officers have called for armed transport police to be able to patrol the UK's railway network.
British Transport Police (BTP) Chief Constable Andrew Trotter has asked the government to amend the 1968 Firearms Act to allow the move.
He told ministers the terror security threat was likely to remain at the "severe" level until the 2012 Olympics.
BTP said a security review was under way but it "would not be appropriate" to comment in depth on the proposals.
Transport officers currently need to call in the local constabulary if an armed operation is needed.
Should the changes go ahead, BTP would have the same powers to carry guns as the Civil Nuclear Constabulary (CNC) and the Serious Organised Crime Agency (Soca).
'Crowded places'
BTP introduced Taser stun guns for 295 officers across England and Wales last year after a pilot scheme in three cities.
Scotland Yard Acting Deputy Commissioner John Yates has called for police to be issued with more powerful weapons.
A BTP spokesman said: "The government has said that its number one priority is the protection of its citizens.
"We are continually reviewing how we go about our work to prevent terrorist attacks and are discussing a range of security options around crowded places. These include railway stations and the Underground.
"It would not be appropriate to comment further at this point."
Earlier this month, the terrorism threat level specific to major UK transport hubs including airports and London railway terminals was raised from "substantial" to "severe".
There have been concerns in recent months over the possibility of Mumbai-style gun attacks in Europe, with terrorists targeting a major railway station or shopping centre.
The official threat level to the UK as a whole remains where it has been for the past year at the second-highest level, "severe", meaning a terrorist attack is highly likely.