7/7 inquests: Doctors struggled after bus suicide bomb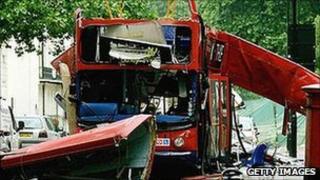 Doctors at the British Medical Association struggled to treat victims of the 7/7 bus bombing because there was no medical equipment at their headquarters, the inquests have heard.
Instead they used table cloths, jackets and ties as bandages for the wounded.
The hearings were told the doctors utilised "bits of bus" including windows as makeshift stretchers.
Suicide bomber Hasib Hussain killed 13 people in the bus bombing in London's Tavistock Square on 7 July 2005.
'Best alternative'
GP and former BMA deputy chairman Dr Anthony Everington told the inquests that when he arrived at the scene outside the BMA's headquarters, less than a minute after the explosion, the circumstances were "not ideal".
Orthopaedic surgeon Dr Awani Choudhary described tending to Gladys Wundowa, who was blown from the bus with massive internal and spinal injuries.
He told the inquests at the Royal Courts of Justice in London he held her head in his hands and comforted her for six or seven minutes before she was carried into the BMA courtyard on a bus window.
Dr Choudhary said he would have required an orthopaedic stretcher but the window "was the second best alternative".
Mrs Wundowa, 50, from Ilford, Essex, who worked as a cleaner at University College London, died about an hour-and-a-half after the blast.
The inquests heard the BMA headquarters was "full of doctors" for a meeting of the medical body's negotiating committee, but the building consisted of mainly offices and had little more than basic first aid kits.
'Stop bleeding'
Dr Everington said he sprinted down three or four flights of stairs after the explosion to find a "funny mix of quietness, stillness, a few sirens in the background, pigeons cooing" outside.
He took charge of the initial medical response, and told the hearings: "We even used table cloths from the canteen and cafes to bandage and stop the bleeding."
Dr Everington added: "Clearly, in retrospect, it would have been very helpful to have all sorts of things much earlier on.
"I can remember in the afternoon we thought we were going to have to stay there all night."
Dr Jit Lodhi, a general surgeon at North Glamorgan NHS Trust, who was at the BMA for the meeting, was asked at the inquests what he used to treat one woman found close to the nearby park.
He said: "There was nothing available at the time. I was alone in that area. There were only a few bandages, I didn't know where they came from.
"The public might have brought them from the road... I just comforted her."
'Lives at risk'
Dr Everington said he was able to assign at least two medics to each patient.
"In a sense it was lucky that we had all these doctors there," he said.
"Obviously people called for bandages and I ended up having to get table cloths, you know, that's not ideal but you use what you have got, whether it's ties, jackets, whatever it is, in those situations."
The inquests heard there were real fears another bomb could have been on the double decker bus.
Coroner Lady Justice Hallett said: "I think we are all conscious of how incredibly fortunate the survivors were that so many doctors and staff at the BMA rushed out to help and in doing so put their own lives at risk, so thank you for everything you did."
Hussain, 18, the youngest of four suicide bombers, detonated his homemade device on the number 30 bus nearly an hour after explosions on three Tube trains, at Aldgate, Edgware Road and Russell Square.
A total of 52 victims were killed and more than 700 people injured in the terrorist attacks.