'Fewer youths' in justice system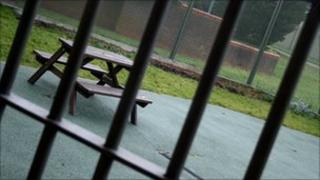 The number of children and teenagers entering the youth justice system for the first time fell by nearly 25% last year, Youth Justice Board figures show.
Some 61,422 people in England and Wales aged 10-17 received a first reprimand, warning or conviction in 2009/10 - down from 79,581 the year before.
The Children's Society said the fall in the number of youngsters in the youth justice system was "a positive step".
The government said it aims to "prevent young people from committing crime".
A government spokesman said ministers wanted to reduce the number of young people entering the criminal justice system in the first place.
He said: "We therefore welcome these statistics which confirms a falling trend in the number of young people with proven offences as well as the number in custody.
"We are consulting on proposals to improve rehabilitation and prevent reoffending in our 'Breaking the Cycle' green paper."
According to the figures, the proportion of children being remanded in custody rose to 10% - 3,404 - of 33,890 cases where a decision was made, which was up from 8% - 5,504 - of 71,359 cases the previous year.
And, on average, there were 2,418 youngsters in custody at any one time last year, which was a fall from 2,881 in 2008/09.
The proportion of custodial sentences also dropped slightly to 5.5% from 5.9% in 2006/07.
A quarter of these were jailed for violence against the person, one in four for robbery, one in eight for breaching orders, including anti-social behaviour orders (Asbos), and one in eight for domestic burglaries.
Enver Solomon, policy director of the Children's Society, said: "The decline in the number of children getting caught up in the youth justice system and ending up in custody is a positive step forward and must continue."
However, he described the use of custodial remand as "excessive", adding that this was a wasteful use of valuable resources.
"There must be a concerted effort to reduce the number of children who are remanded to prison," he said.
Mr Solomon went on: "In many cases, these young people are very vulnerable and more of a risk to themselves than the public.
"What they need is intensive support within clear boundaries to stay out of trouble - not a prison sentence."