Recorded crime continues to fall in England and Wales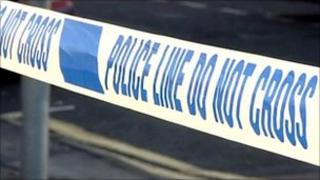 Recorded crime in England and Wales fell 7% in the year to the end of September 2010, official figures show.
There were falls in all main categories of crime, except sexual offences which were up by 7%.
But the British Crime Survey, which asks people about their experiences, rather than what the police record, suggested burglaries rose by 9%.
Officials said that was not statistically significant - but there was a 16% rise in all household theft.
The largest falls in police recorded crime were for criminal damage - down almost a fifth - and vehicle offences, such as break-ins, which fell 14%.
All violence recorded by the police fell 4% over the year and robberies fell by 5%. The BCS found no statistically significant change in the level of violence or household crime uncovered in its interviews.
There was also a decrease in people's perceptions of high levels of anti-social behaviour.
More than half of people said that police and local agencies, such as their councils, were dealing well with anti-social behaviour and local crime problems.
The number of homicides fell 4% to 619 in the year to the end of April 2010 - 25 fewer than the year before and the lowest number since 1997-98 when 606 were recorded.
As in previous years, about two-thirds of homicide victims were male, while about three-quarters of female victims knew the main suspect. The number of homicide victims under 16 went up from 49 to 52.
About a third of the killings involved a sharp instrument. And although the police recorded an overall 6% fall in firearms offences, the number of homicides from shootings rose marginally from 38 to 41.
Forty-one people were shot dead in 2009/10, up three on the year before.
Separate figures published earlier this week by the Metropolitan Police showed that in 2010 the number of homicides in London was at it its lowest level since 1978.
Chief Constable Keith Bristow, head of crime for the Association of Chief Police Officers, said the data showed the risk of being a victim of crime remained at "a 30-year low".
"Nationally, we have been working to improve all areas of sex offence investigation, with a particular emphasis on rape in domestic abuse cases," he said.
"We remain determined to bring to justice people who commit sexual offences and we are making significant progress in this critical area, particularly around giving victims confidence to come forward and report these crimes and we need them to do so."
"The homicide rate also remains at its lowest level on the homicide index in 12 years. These overall results are a strong indication of the efforts of our workforce and others to keep people safe."
Review launched
Home Secretary Theresa May said that officials were now launching a review of how crime figures were collected and published in an attempt to improve public confidence.
The review would look at ways of cutting costs while making the figures more coherent.
"Any reductions in crime are welcome, however levels are still too high and we know these statistics only offer a partial picture about the level of crime," Mrs May said.
"More needs to be done to bring crime down and we need to take bold action to restore public trust in crime statistics.
"That is why I have asked the national statistician to lead a review and why we are moving the publication of crime statistics out of the Home Office to an independent body.
"Improving public trust and confidence in crime statistics is crucial if we bare to improve transparency and empower local communities to hold authorities to account."