Newspaper review: NHS changes under the microscope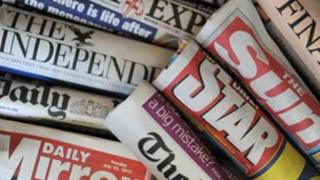 The government's planned changes to the NHS in England are put under the microscope by many of the papers.
The Independent is reminded of the parable of the blind men and the elephant - "opinions as to what we are grappling with are hopelessly conflicting," it says.
But it concludes it is an "experiment" and a reckless way to go about reform.
The Daily Mirror is firmly opposed, calling the government's plan "a sick dose of private upheaval".
Surgical scrubs
The Daily Telegraph points out that seven out of 10 health managers will keep their jobs, despite the government's promise to cut bureaucracy.
A disappointed Daily Mail calls it a "Reprieve for the NHS pen pushers".
Patient care could suffer during the upheaval, the Sun warns, and there will be "pain" before the "gain".
In the Guardian's cartoon, the health secretary, wearing surgical scrubs, is ripping the guts out of the NHS, while a vulture perches on his shoulder.
Expensive property
There is wide coverage of the story of Riven Williams, who announced on the internet she could no longer cope with her severely disabled daughter.
The Guardian says outrage mounted when it emerged David Cameron visited her before the election and promised help.
The Times contrasts the rise of youth unemployment with the opening of what it calls the most expensive block of apartments in British history.
The flats, by London's Hyde Park, cost at least £6,000 per square foot.
Yorkshire terrier
The Independent reports Starbucks is offering a new super-sized coffee, bigger than the average human stomach.
The chain says the "Trenta", more than one and a half pints, has been launched in the US because of customer demand.
Residents of a Northampton cul-de-sac have not been getting post for the past six weeks, says the Daily Telegraph.
It seems postmen are being terrorised by a local dog - a tiny Yorkshire terrier called Peggy, who the paper labels "The Beast of Dorset Gardens".