Drink drivers: Police arrested 6,600 in December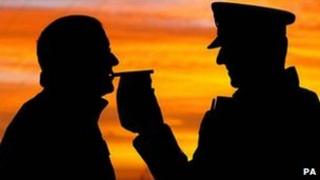 More than 200 people were arrested every day during December for driving under the influence of drink or drugs, according to police figures.
In all, 6,613 drivers failed drink and drug tests over the festive period in England and Wales.
Police say the total arrested was lower than in 2009 because the extreme weather meant fewer people went out.
Overall, officers tested 170,000 drivers, down from 223,000 the year before because of the conditions.
Just under 4% of those stopped were arrested, slightly up on 2009 but not though to be statistically significant.
Chief Constable Mick Giannasi, who speaks for the Association of Chief Police Officers on roads policing, said that despite the coldest December temperatures in more than a century, there were still people putting the lives of others at risk.
"Given the exceptional road and weather conditions which we experienced in December, forces across the country reported a significant reduction in the number of people using the roads," he said.
"Understandably, in those conditions, we were not able to conduct as many tests as we did last year. Despite that, there were still 6,613 people who chose to put the lives of others at risk by driving under the influence of drink and drugs.
"That is not only socially irresponsible, it will also have consequences for those who were caught. All of them now face a lengthy driving ban, some will face imprisonment and many will already have lost their jobs and their livelihoods."
The annual operation, which ended on 1 January, saw officers from all forces using a range of tactics to catch drivers who had been drinking or taking drugs, including random roadside stops and arrests based on public tip-offs.
Acpo said that the figures showed that those who had been drinking or taking drugs were more likely to be involved in an accident.
Of the 24,000 people tested following collisions, slightly more than 7% were arrested for driving under the influence of drink or drugs. About one in 20 of those who were arrested were under 25 years old.
Police currently rely on a "field impairment test" to assess whether a driver has been taking drugs, which involves asking them to carry out basic physical tests.
The Home Office is currently asking manufacturers to come up with drug-testing machines for police stations and portable devices for patrol cars.