Jobcentre Plus call centre staff set to strike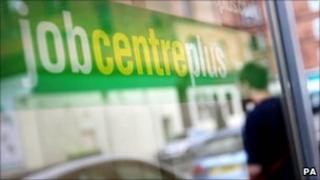 Thousands of workers at Jobcentre Plus call centres are due to strike in a row over working conditions.
Members of the Public and Commercial Services (PCS) union are set to stage a 48-hour walkout from Thursday.
Centres in Glasgow, Newport, Norwich, Manchester, Makerfield near Wigan, Bristol and Sheffield will be affected.
The union claimed workers were being excessively monitored. The Department for Work and Pensions said it was disappointed by the planned action.
The union is expecting up to 3,500 staff to walkout.
On Wednesday, it emerged that the number of Jobseeker's Allowance claimants was falling despite a rise in unemployment.
The PCS claimed this was proof that a backlog of claims was mounting up.
It said it wanted staff to have the same flexi-time arrangements as in the rest of the Department for Work and Pensions; more varied, satisfying work; and an end to a target-driven culture.
The conditions were causing high levels of stress and sickness in the workplace, union officials added.
PCS general secretary Mark Serwotka called for the Department of Work and Pensions to "urgently investigate why the claimant rate appears to be falling when unemployment is going up, and to put proper resources in place to handle people's claims effectively".
A spokesman for the government department said: "We are disappointed that some staff, only 21% across the centres, have voted to take industrial action.
"No jobs will be at risk through these changes. The contact centre staff at DWP will continue to receive good terms of employment including generous holidays.
"We are modernising our telephone and benefit processing service.
"There will be no change to the way benefits are paid, however it will mean that customers will get a better service than at present when they phone with a benefit inquiry."