Unanswered questions remain over honeymoon murder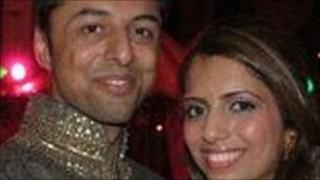 The first call I received about the Dewanis was the day after Anni had been killed. It was a Sunday and I was the correspondent on call in Johannesburg.
Initial reports were that a British woman had been murdered on honeymoon in Cape Town. It was potentially a very big story.
Then it emerged that Anni Dewani was a Swedish national and that her husband was British.
After a series of discussions with producers in London it was decided that the story was no longer of major interest to a UK audience. So that day the story went unreported on the BBC.
When the newspapers came out on Monday morning it was clear that a mistake had been made. Anni Dewani may have been Swedish but she was living in Bristol and the tragedy of this honeymoon murder had clearly struck an emotional chord.
We spent the day catching-up as we pieced together the couple's last movements on that fateful Saturday night.
One question already stood out. Why did they decide to drive through the township of Gugulethu late at night?
'Informed decision'
The next day I had a chance to find out for myself. I was despatched to Cape Town to follow up on a story.
I headed for the luxury Cape Grace Hotel where the honeymoon couple had stayed and where members of both Shrien and Anni Dewani's family had now gathered.
It was a scene that does the journalism profession no credit. With the grieving family seated in the restaurant area, reporters loitered anxiously in the lobby or nearby on the balcony.
All but one of them had been rebuffed in their attempts to speak to Shrien Dewani about what had happened three days before.
So it was with some trepidation that I placed my business card on the Dewani's table, introduced myself and prepared to leave.
To my surprise Shrien Dewani did want to talk to the BBC. It was clear he had been closely following coverage of the murder and was angry.
He told me that he wanted me to correct all the inaccuracies that existed on the BBC website about events the night Anni died. I pulled out my notebook and sat next to him.
First and foremost he was upset that I had in my TV report called their decision to take a night-time drive into Gugulethu a "big mistake".
Shrien Dewani said that it had been an "impulsive" decision but it had been an informed one.
'Real Africa'
Mr Dewani said he knew Africa well and that they had in fact driven through Gugulethu twice that night. Once on the way to a dinner in Somerset West and once fatefully on the way back.
Shrien Dewani then told me that it was Anni who wanted to go to the township a second time. He told me, as he had said to another journalist, that she wanted to see the "real Africa".
For many people in South Africa that decision is hard to understand. The townships that surround Cape Town are relatively safe during the day. But at night they are poorly lit and, for tourists at least, mostly "no go areas".
Mr Dewani told me that after dinner they had walked on the beach in Somerset West and that Anni had wanted to get back to Cape Town to have some ice cream.
If so why did she first insist on taking a detour through a dark street that she had seen only a few hours previously? And if Shrien Dewani did know Africa as he told me he did - why did he allow it to happen?
If Mr Dewani ever appears in court in South Africa it will primarily be the testimony of his taxi driver Zola Tongo that he will have to counter.
Mr Tongo has already started an 18-year prison service having entered a plea bargain. It states that he colluded with Mr Dewani to engineer both the carjacking and murder.
'Miraculous escape'
Not surprisingly Mr Tongo's version of that night is very different from Mr Dewani's. He says that during the first visit to Gugulethu the hitmen he had organised were late. They drove on to Somerset West making a second township visit necessary after dinner.
Crucially, Mr Tongo says he communicated with Mr Dewani throughout that evening by text and phone to finesse the plan. That evidence, if it does exist, may prove pivotal at any future trial.
The second part of Mr Dewani's account that raises eyebrows is his own seemingly miraculous escape. South African criminals are not known for their compassion. So why then did the carjackers force him out of a window unharmed before killing his wife?
Rape would have been one reason. But the post-mortem examination shows that she was not sexually assaulted.
When I spoke to Mr Dewani at the time he refused to go into details of how he managed to get out of the hijacked car saying he found it "too upsetting". Others have been less charitable suggesting he should have fought harder to save his new wife.
But amid all the speculation and pointing of fingers at Shrien Dewani, problems remains for those asserting his guilt.
Firstly, is it possible that Mr Dewani, as it is alleged, simply approached a taxi driver at the airport to organise a hit just a few days later?
Secondly, no-one has as yet come up with a motive that sticks. Shrien Dewani's sexuality has been questioned, as have his finances, there have been mutterings about Anni Dewani's sad texts home and tears on a plane.
But no-one has come close to explaining how a relationship could have gone from marriage to murder in just two weeks.