UK soldiers get new lighter magazine for guns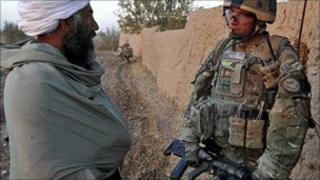 British troops in Afghanistan are being given a revolutionary new lightweight, see-through magazine for their standard issue SA80 rifle.
Made from plastic, the Magpul Emag magazine, which can carry 30 rounds, is about half the weight of a traditional metal magazine.
The Ministry of Defence says more than 100,000 new magazines have already been handed out to troops in Afghanistan.
In all a million will be delivered over the next four years in a contract worth £13m to the Hereford-based supplier Level Peaks Association.
The Emag is not only lighter. It has a plastic window that allows troops to easily see how many rounds they have left.
The magazine has also has a detachable cover to protect against dust and sand that means fewer jams and less wear and tear.
Troops on the frontline have welcomed the new kit.
Corporal Stevie Japp, from Falkirk, who is serving with The Argyll and Sutherland Highlanders, 5th Battalion The Royal Regiment of Scotland, said: "The little window lets me see how many rounds I have left at a glance and it's a lighter, more robust design."
The Emag weighs 130g (4.58oz), compared to 249g (8.78oz) for the metal equivalent.
Troops carry up to 12 magazines, so the change to the Emag means each soldier is carrying one kilo less weight overall.
Heavy burden
The Ministry of Defence is looking at a range of other new technologies designed to ease the heavy burden on a soldier's back.
The kit they carry into battle can often weight more than 75kg (165lb).
Batteries and spares for radios, GPS systems and night-vision goggles can account for about 20% of that weight.
So much of the focus is on finding less cumbersome sources of energy.
A number of companies are developing new lightweight batteries which can be charged by folding portable solar panels that can easily fit in a backpack.
Intelligent Textiles Limited, a company based in Staines, Middlesex, has been given £50,000 by the Ministry of Defence to develop new body amour that has electronic circuits woven into the fabric.
It means soldiers can forget about snagging heavy, dangling wires.
They also can use just one battery supply to power all their kit.
Cambridge Design Partnership is also developing a portable oxygen generator for the frontline - where traditional oxygen tanks are too dangerous and heavy to carry.
It is hoped the kit will help save soldiers' lives on the frontline.
Commenting on the new magazines for British troops, the Minister for Defence Equipment, Peter Luff, said the government was committed to ensuring the armed forces made use of the latest technologies to reduce the weight of a soldier's kit.