Newspaper review: Rights of Royal women considered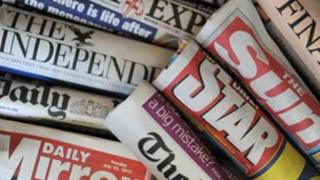 The coalition is considering changes to the constitution to allow a first-born daughter of Prince William to accede to the throne, says the Daily Telegraph.
It says ministers are negotiating with Commonwealth governments about possible changes to the Act of Settlement, under which boys take precedence.
The Daily Mail says Buckingham Palace confirmed it would "abide by the government's actions".
But the Mail says "sources" suggest the Queen is "concerned".
Undercover missions
The Times says the ex-Chief Inspector of Prisons, Lords Ramsbotham, wants young offender institutions scrapped.
He wants them replaced with "academies" aimed at rehabilitating and educating criminals under 18.
The Guardian reports that the Association of Chief Police Officers is to be stripped of responsibility for running undercover operations.
It links the move with the case of Mark Kennedy, the policeman who spent seven years as an environmental activist.
'Massive improvements'
The government's NHS reforms, which are being published in the Health and Social Care Bill, dominate the papers.
Writing in the Sun, a GP says giving family doctors control over spending is the best thing for the NHS.
Dr Charles Alessi, who has taken part in a trial, says "patients can expect massive improvements".
Under the headline "Blood Money," the Daily Mirror says bosses of private health firms have donated £750,000 to the Conservative Party.
Interesting rates
The Independent focuses on the Iraq inquiry and the decision not to make public private memos between Tony Blair and George Bush in the run-up to war.
It says the veto imposed by the head of the civil service Gus O'Donnell is "deeply regrettable".
Investors are betting on a rise in interest rates in early summer, according to the Financial Times.
The FT says the Bank of England will soon feel the need to show it is serious about beating inflation.