Millionaire David Mabey faces Saddam Hussein charges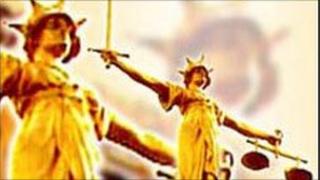 A businessman has been accused of making a corrupt payment to Saddam Hussein's regime for a "shady deal".
Southwark Crown Court heard millionaire David Mabey inflated the price of a bridge building project so the Iraqi government would receive a "kickback" of hundreds of thousands of pounds.
Peter Blair QC said Mr Mabey and ex-colleague Richard Forsyth, 62, from Hampshire, bypassed UN sanctions.
Mr Mabey, 49, from Berkshire, and Mr Forsyth deny the claims.
Mr Mabey, from Hall Place Lane in Maidenhead, Berkshire, is the owner of Mabey Holdings and his family is ranked at 329 in the Sunday Times rich list with a fortune of £196m.
His former colleague is from Butts Meadow in Hampshire.
According to the prosecutor, the allegations relate to Mabey and Johnson, which he described as a privately-owned engineering company, which is one of a number of companies within the Mabey Group.
The two men deny giving consent, or conniving, to raise the price of a contract worth 3.8m euros (£3.3m) to 4.2m euros £3.7m) to build bridges.
The jury was told that the difference of the 10% increase was knowingly given to Iraq by the company, Mabey and Johnson, in a scheme the oil-rich country came up with to bypass sanctions imposed by the United Nations.
Mr Blair, prosecuting, claimed that in around 2000, the Iraqi government devised a system he referred to as "a kickback".
"Iraq devised a scheme whereby they arranged for suppliers, we say, to make funds available so they could spend money as they pleased," he said.
Mr Blair told the court they bypassed the UN's aid programme, which was designed to supply vital food and healthcare to citizens.
The barrister claimed that in this case the money was transferred through a bank account controlled by an organisation called Upper Gulf Agencies.
He went on: "It wasn't all locked up in the United Nations account only for spending on humanitarian goods.
"This is something the United Nations sanctions specifically prohibited and which English law specifically prohibited."
'Hard bargaining'
He told the jury that the proceeds of the oil Iraq sold should have been banked in a special account - in the hands of a third party until a condition is fulfilled - so they could not have control of the money themselves.
Addressing the jury and Judge Rivlin QC, Recorder of Westminster, the barrister showed documents which he said demonstrated there was "a bit of hard bargaining was going on" by Mr Mabey.
The correspondence, which he said was from the businessman to the buyers, show him to be negotiating a "commission", and he was not pleased when he was offered one of below 10%.
The barrister said: "There was a shady deal going on, on the side of it."
Mr Mabey has been charged with making funds available to Iraq, in contravention of United Nations sanctions on Iraq, as well as furnishing false information and false accounting.
And Mr Forsyth is charged with making funds available to government without authority and falsifying a document with a view to gain.
The case continues.