Newspaper review: Health service reforms under scrutiny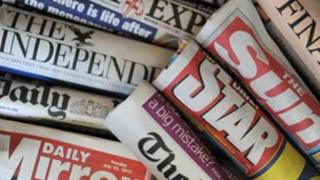 The government's plans to reform the health service are analysed and dissected by the papers.
Only the Chinese army and Indian Railways employ more people than the NHS, says the Financial Times.
The paper says the plans, which include passing control of budgets to GPs, are "so big they can be seen from space".
"Sceptical questions are legion," says the Guardian. "The overhaul is to be fast, furious - and at a time when there is no cash to grease the cogs."
'Huge undertaking'
The Daily Mirror describes the proposals as a "high stakes gamble".
It is a "huge undertaking", according to the Daily Express.
The Daily Star for one is convinced something must be done: "Our public services cost too much and fail to deliver far too often."
The Times supports the general direction the government is taking but it fears that ministers may stop setting targets "too early in the process."
'Explosive' claims
The inquiry into the circumstances in which Britain went to war in Iraq receives more coverage.
The Times sees the statement by former Attorney General Lord Goldsmith to the inquiry as an allegation that Tony Blair misled MPs.
The Daily Mail says the claims made by Lord Goldsmith in written evidence to the inquiry are "explosive".
The Independent thinks his comments have breathed new life into the inquiry, which started in 2009.
Lewd and brutal
A historical mystery may have been solved, according to the Guardian, by police in Italy.
Last week officers caught a man loading part of an ancient statue on to a lorry and archaeologists hope he has found the lost tomb of emperor Caligula.
Ricky Gervais's performance at the Golden Globe awards has caused a stir.
The Sun views his jokes to have been "snide" and "ill-judged", while the Daily Mail thought his jibes were lewd and brutal, "sometimes brutally funny".