Today host Justin Webb names his father as Peter Woods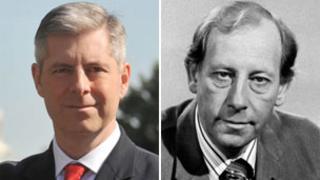 BBC presenter Justin Webb has revealed he was the result of an affair between his mother and newsreader Peter Woods.
The host of Radio 4's Today programme announced the secret identity of his father in a Radio Times article.
Webb, 50, said he had had no contact with his father apart from a brief encounter aged six months and he had "buried" his identity in his mind.
Woods, who died in 1995, was a presenter of the BBC's flagship Nine O'Clock News in the 1970s.
He once had to be faded out when he audibly slurred his words during a BBC Two bulletin, while apparently drunk. At the time the BBC put the incident down to the newsreader using medication for "sinus problems".
'Absent father'
Woods and Webb's mother, Gloria Crocombe, became close while working together at the Daily Mirror in the late 1950s - he as a star reporter and she as a secretary, until she was sacked for becoming pregnant.
They split when Webb was born in 1961 and the presenter believes his mother may have had as much to do with the separation as his father.
"I do not believe she was abandoned," he said. "But the plain fact is that, emotionally and physically, he was absent.
"He had a life and a family of which I was no part."
Webb's mother, who later married, died in 2006.
Webb said he would see his father on TV while growing up but he did "not really make much of a connection" between himself and Woods, who also went on to work for ITN.
"I cannot even remember wanting to tell anyone, it was that deeply buried," he said.
"Peter Woods was a presence in my life - and a lack of presence all wrapped up in one."
Gossip column
Webb, who has been North America editor and host of Breakfast, among other posts, during his BBC career, said he had hoped to take his father's secret identity to his grave but realised it was "naive", adding that his children needed to know who their grandfather was.
He said: "Although I'm a relatively obscure BBC person I know the link will be of some perfectly legitimate interest to those who remember my father.
"And rather than read about us in a gossip column one morning, or have to respond quickly to something that someone else was writing after trawling Facebook, I decided to write this."
He said he had "never thought of making contact" with his father, even when he had followed in his footsteps and joined the BBC.
Although he bears no ill-feeling towards his parents for the paths they chose, he admitted: "I do sometimes feel a pang of longing.
"I think sometimes that it would have been fun to have had a proper dad, less intense and less lonesome. More normal, in the best sense. It has left me fascinated by fatherhood: its possibilities and limitations and joys."