Britain 'to improve links in Asia', says Hague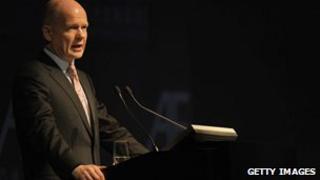 Britain will step up its diplomatic efforts in Asia while also aiming to improve commercial ties in the region, William Hague has said.
The foreign secretary told the Asian Financial Forum in Hong Kong that "we know that foreign policy and economic success go hand in hand".
He also said Britain was "hard-wiring a commercial focus into our foreign policy".
Mr Hague is scheduled to visit Australia and New Zealand this week.
He told the annual conference in the former British colony that as economic weight and political influence moved around the globe, "British diplomacy has to shift its weight accordingly".
He said Britain would strengthen ties with China and India as well as Latin America and the Persian Gulf states.
He called this a "double imperative" since Britain already worked with many of those nations on global issues including security and climate change.
He also said Britain hoped to step up co-operation with Asian countries on climate change, preventing nuclear proliferation in the Middle East and stemming international terrorism.
And he singled out China as being a "particular focus of our diplomatic efforts".
Mr Hague's visit to the Chinese territory follows a visit by Chinese Vice-Premier Li Keqiang last week to Europe, where he met Prime Minister David Cameron and Deputy Prime Minister Nick Clegg.
Mr Hague's trip to Australia and New Zealand will be the first visit by a British foreign secretary to the two countries in 17 years.