'Safety fears' for Prince Charles at Diana funeral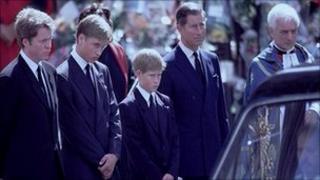 Prince William was asked to walk behind the coffin of Princess Diana because of fears the Prince of Wales might be attacked, Alastair Campbell says.
Mr Campbell, former Downing Street director of communications, makes the claim in extracts from his diaries published in the Guardian.
He said Prince Charles's press secretary was sent to ask William to walk with his father.
Clarence House said it would not be commenting on Mr Campbell's claims.
Mr Campbell wrote in his book, Power and The People, that concerns over the Prince of Wales' safety following his ex-wife's death emerged during a conference call on 4 September 1997.
This was conducted with courtiers who were with the Queen and Duke of Edinburgh at Balmoral.
Mr Campbell said Prince Charles's press secretary, Sandy Henney, was sent to Balmoral to tell William that his mother would have wanted him to follow her coffin at her funeral, which took place on 6 September 1997.
"Sandy Henney had been sent up to try to explain why he might do it," Mr Campbell said.
"She was obviously saying it was what his mother would have wanted whilst there was also the fact it would avoid the risk of Charles being publicly attacked."
Media 'hatred'
According to Mr Campbell, the Queen's deputy private secretary, Sir Robin Janvrin, said that if William did not follow the coffin, "then Charles couldn't 'for obvious and understandable reasons'".
Mr Campbell also claims that Diana's brother, Charles Spencer, was opposed to cars being used in the funeral procession.
"They realised that if William doesn't go behind the coffin, they have a real problem because Charles would have to go behind the coffin with Charles Spencer," Mr Campbell wrote, and that there was "no way he can do this without the boys".
But Mr Campbell said there was doubt over whether Princes William and Harry would be willing to make the walk - as indeed they eventually did.
"William was refusing to speak to anyone and he was consumed by a total hatred of the media.
"It was pretty clear that he really felt strongly about the role of the media vis-a-vis his mother, and would not want to be doing anything that he felt was for them. He was being strong and clear about what he wanted.
"But as TB [Tony Blair] said, they were just one of the things he would have to deal with as king, and he'd need help. He felt that if he loved Diana as she had wanted him to, there was the chance he would set his mind on becoming king but having nothing to do with the rest of them."
Mr Campbell added: "I sensed the boys were holding firm, and they seemed to feel it was being done for the media and the public, not for their mother."