UK newspapers focus on range of stories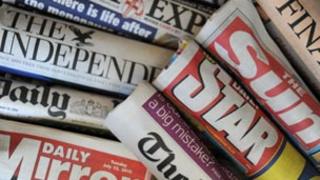 There is a warning in the Guardian that NHS trusts in England are adopting a "dangerous path" by limiting routine operations in order to save costs.
The Royal College of Surgeons tells the paper there could be "long-term health problems" as a result of restrictions.
The Financial Times reveals that the new commissioner of the City of London Police wants to form an alliance with banks to combat fraud.
Adrian Leppard says banks could gain police help if they provide funding.
Paternity leave
There is concern in the Daily Mail about proposals from the deputy prime minister for up to 10 months' paid paternity leave.
The paper quotes the Federation of Small Businesses as describing it as "the wrong measure at the wrong time".
The Daily Express continues its campaign for the government to reduce taxes on petrol and diesel.
It criticises Treasury Secretary Danny Alexander for his "defeatist" stance on a variable "fuel price stabiliser".
Gun popularity
A week after the Arizona shootings in which six people died, the Daily Telegraph reports that a gun fair attracted 50% more visitors than usual.
The organiser believes the increase is down to the concerns about small arms use that the shootings have provoked.
The Independent's Mary Ann Sieghart believes that one of the key causes of binge drinking among teenagers is the demise of the public house.
Pubs offer a "social hub" for drinking, but young people are excluded.
Early education
The Times has details of a report prepared for the government, which suggests that a child's first school year should start at birth.
The document concludes that too many children turn up at school inadequately prepared.
The Daily Mirror reports on the latest details of the Jo Yeates murder inquiry.
The Independent focuses on three other young people who went missing in the run-up to Christmas. It asks why some cases attract a lot of media coverage.