Fuel discounts for remote areas being considered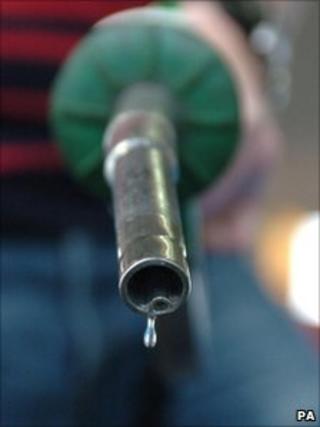 Chief secretary to the Treasury Danny Alexander said the government was considering offering a fuel discount to people in remote areas.
Mr Alexander, Lib Dem MP for Inverness, told the BBC's Politics Show: "We recognise that this for many families is a serious issue."
But he said a 'fair fuel stabiliser' - lowering duty when pump prices rose - was tricky to implement.
Shadow Transport Secretary Maria Eagle said government policy was "in chaos".
David Cameron has indicated that the fuel duty stabiliser idea was being examined.
The concept of the fuel stabiliser is to peg fuel duty to the price of oil so that when the price of oil goes up the proportion of tax goes down, and vice versa, maintaining a steady price for consumers.
"It's a complicated idea and it's difficult to see precisely how we achieve it, but it's something that we are looking at very carefully to see if we can reduce the burden of fuel duty," Mr Alexander said.
Mr Alexander said the coalition government were also considering the discount scheme to help drivers in remote areas such as the Scottish Highlands, Western Isles, west Wales and parts of England and Northern Ireland.
Manifesto pledge
Scotland's Finance Secretary John Swinney has written to the Chancellor calling on him to tackle rising fuel prices.
In a letter to George Osborne, Mr Swinney urged the government to set up a fuel duty regulator.
Help with fuel costs for people living in remote communities was one of the manifesto pledges from the Lib Dems.
Ms Eagle said: "Families are being hit by rocketing prices at the pump made worse by the VAT hike. Yet the Tory-led government is in chaos and confusion about how to respond."
Labour leader Ed Miliband said the Conservatives had broken a promise to introduce a fair fuel stabiliser.
"They made a promise before the election, the Conservatives put it in their manifesto, and they have broken that promise.
"Let's see if they come forward with a proposal for a fuel duty stabiliser. We found it hard to do that in government.""