UK newspapers: Tunisia unrest still the focus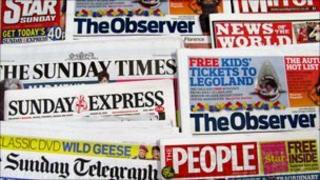 Tunisia's unrest continues to occupy the UK newspapers.
Every revolution must have a name, it seems, and the Sunday Telegraph says this one is the Jasmine Revolution because it is the national flower.
But the question for many is, as the Observer puts it, will the Jasmine Revolution bloom?
Does it mark the flowering of Arab democracy, the Mail asks. Will it now be a fuse for other countries in the region, the Independent wonders.
For the Sunday Times, the crowned heads and presidents-for-life across the deserts and cities between Casablanca and the Gulf are shifting uneasily in their palaces.
They will look on in fear, the Observer says, as it is something many may face themselves in the near future.
The reason, according to the Mail, is that the grievances in Tunisia are similar to those elsewhere.
And they are rising prices, repression, grotesque corruption and unemployment.
Camp beds for lords
The Telegraph reports that camp beds are being set up in the Lords so that peers can remain in Parliament for a marathon run of three successive all-day and all-night sittings this week.
It says ministers are determined to push through the bill paving the way for a referendum on voting system.
Warnings about the impact of high fuel prices come from two papers.
"We're all being driven to ruin", the News of the World says, adding the rises threaten Britain's way of life.
Cuts all round
It savages the recovery of small businesses and siphons off the money needed for food, says the paper.
The Express says transport costs are now eating up some people's salary to the extent that some find it more profitable not to work and exist on benefits instead.
The paper reports that nearly half of the police forces have cut their fleets of squad cars because of soaring fuel costs.
The Sunday Times reports that cuts threaten municipal gardening, as councils plan to grass over flower beds, shut greenhouses and let lawns grow longer to reduce budgets.