Ex-undercover Pc Mark Kennedy 'living in fear'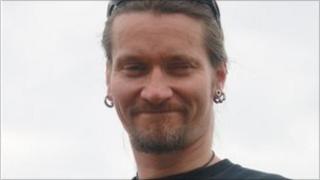 Ex-undercover officer Pc Mark Kennedy has said his "world has been destroyed" after his covert work was exposed.
The case against six green activists accused of conspiring to shut down a power station collapsed after he said he would testify for the defence.
Mr Kennedy told the Mail on Sunday his secret work had "jeopardised" his life.
And he claimed he was now being made a scapegoat for the failure of the trial when, in fact, "a lot of mistakes" were made in the operation's handling.
The former Pc led a double life, serving as a Metropolitan Police officer while posing as an activist known as Mark "Flash" Stone, involved in the green movement since 2000.
On Monday, the trial of six men allegedly involved in a protest at Nottingham's Ratcliffe-on-Soar power station in 2009 was stopped after their defence team asked prosecutors to disclose full details of the officer's activities.
This reportedly prompted the Crown Prosecution Service to drop their case, and the Independent Police Complaints Commission is now examining whether Nottinghamshire Police properly disclosed all relevant material in advance of the trial date.
Mr Kennedy told the Mail on Sunday he believed tape recordings secretly made by him were withheld for fear they would destroy the prosecution's case.
Sexual relationships
The former Pc was involved in a number of protests during his time undercover, including at the Drax power station in North Yorkshire - where he claims he was hit by some of his fellow officers.
He also picketed arms fairs in London and the construction of the Karahnjukar Dam in Iceland.
He said he was particularly useful because he owned a van and could drive people to demonstrations, and was also a skilled climber who could scale buildings.
Mr Kennedy admitted having two sexual relationships with female activists and said it was "a wrong thing to do".
"The circumstances I was involved in led to that to happen and I can assure you that I am not the only person who has been involved in sexual relationships as an undercover officer."
But he denied "going native" despite getting very close to his targets.
"As the years went on, I did get a sort of Stockholm Syndrome [where kidnap victims come to love their captors], but I never lost sight of my work. I texted and informed on a daily basis."
Mr Kennedy was unmasked in September by some of the activists and subsequently told them he had been a police officer, but had left in 2009.
He said he had recently fled abroad and had sought help from a psychiatrist after having suicidal thoughts.
"My world has been destroyed. I don't have any friends - they were all in the activist movement.
"I can't sleep. I have lost weight and am constantly on edge.
"I barricade the door with chairs at night. I am in genuine fear for my life. I have been told that my former bosses from the force are out here in America looking for me. I have been told by activists to watch my back as people are out to get me."
"Grey and murky"
Mr Kennedy criticised police procedures for dealing with him.
"There have been a lot of mistakes made, a lot of operational decisions have been wrong... and I think I am being made a scapegoat."
He described the "world of undercover policing" as "grey and murky" and said there was "some bad stuff going on" within it.
"The extraction policies for taking an undercover officer out of the activist scene after their deployment has finished is appalling. I had no confidence at all that my safety was ever going to be regarded."
He added: "I want to tell my story and tell how there is a huge mismanagement of staff for the sake of gathering intelligence.
"It has jeopardised my life and it could jeopardise the lives of other officers."
But Peter Bleksley, who was a founder member of Scotland Yard's undercover unit, said all those taking part in such work had chosen to do so.
"Nobody can put your arm up your back and force you into going undercover," he told the BBC.
"So consequently, as a volunteer, that means you've got the ultimate power of veto. If you're not happy with how an operation's being run, if you're not happy with what you're being asked to do, it's very simple, you just say, 'Nope, I'm not doing it.'"