Social housing waiting lists rise in England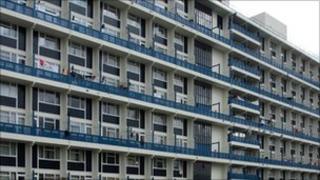 The number of people joining waiting lists for social housing rose last year, councils in England say.
More than 11,000 people joined the lists from July to September last year, 12% more than the previous quarter.
Richard Kemp, vice-chair of the Local Government Association, said there was "no long-term solution to this problem".
The government says it is working to find a solution to what it admits is a housing crisis.
Waiting lists rose 72% over the last 13 years, from just over one million in the late 1990s to almost 1.8m by 2008.
This latest rise means five million people are now on waiting lists across the UK and councils say they are being forced to use more private accommodation.
Mr Kemp said it was a "very difficult situation".
He added: "At the moment I can see no long-term solution to this problem.
"We are going to be using accommodation that we don't want. We are going to use landlords we don't want.
"No matter how imaginative we are, there isn't the cash in the system to meet the needs... unless there is more money we can't build houses."
Tenant review
The housing minister, Grant Shapps, said: "The crisis is very much here. What we're all about is trying to solve the housing crisis.
"We want it to be a fairer system, we don't want to be paying housing benefit rents at levels of £26,000 - that's more than people can dream of paying if they weren't getting housing benefit in almost all cases.
"So we want to make that system fairer and at the same time, build more houses at affordable rent that people can actually move into."
A spokesperson from the Department for Communities and Local Government said nearly £4.5bn will be spent on delivering up to 150,000 new affordable homes over the next four years.
They added: "We will give local councils and social landlords greater flexibility in how social housing can be used - moving away from the current position in which central government effectively requires every new tenant to be given a home for life.
"We are also giving councils more freedom to decide who qualifies to go on their waiting lists, so they will not be obliged to accept applications from any person, even those who could meet their own housing needs."
Clive Betts, chairman of the housing and local government committee, said the country was "on the brink of a housing crisis".
He added: "Homelessness numbers are going to go up quite rapidly. Clearly we have a shortage of housing, this isn't a short-term problem, it's a long-term problem.
"We haven't been building enough homes to keep pace with demand."
The BBC's Keith Doyle said that the government wants to charge more rent to tenants who can afford it, which it says will pay for more houses to be built.
Plans were announced last year for social housing landlords to be able to check the finances of new tenants in England after two years in the property, under reforms that were part of a wide-ranging Localism Bill, which has its second reading in Parliament on Monday.
This review would mean tenants could be evicted if their financial situation is deemed to have improved enough.