Newspapers warn over Tunisia upheaval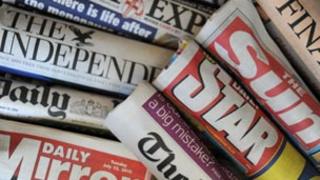 Both the Guardian and the Independent lead on the crisis in Tunisia.
The Guardian describes the departure of the country's president as a "victory for people power", but is prompted to ask: "what next?"
The Independent believes similar events could easily be repeated across the Arab world.
The Daily Mail describes it as the first "Wikileaks revolution", as one of the US diplomatic cables likened the presidential family to mafia mobsters.
The paper says that even though publication of the comments was banned, news of them spread by mouth, and contributed to the public anger.
Case collapse
The lead in the Times is about the collapse of the trial of six environmental activists.
The reason given at the time was that an undercover police officer apparently decided to support the defence.
But the Times says that the case fell apart when secret police tapes came to light, undermining the prosecution.
The Daily Telegraph turns its attention to the Oldham East and Saddleworth by-election in which Labour increased its majority over the Liberal Democrats.
The paper's leader warns that "if political history teaches us anything, it is to avoid reading too much into the outcome of a by-election".
Student funding
The Daily Express is angry that, at a time when student finances are in the spotlight, more than £250m of taxpayers' money is spent each year on giving university places to students from other EU countries.
The paper's leader concludes that "as in so many areas, European law seems purpose-built to disadvantage Britons".
And Thunderbirds are go... again, according to the Sun. Nearly 50 years after the show first appeared on TV screens, creator Gerry Anderson, 81, tells the paper that Thunderbirds is making a return.
This time, however, the famous puppets will be replaced with CGI.
But Mr Anderson says Thunderbirds "will not lose its uniqueness".