7/7 inquests: Dozens 'got off just before bus blast'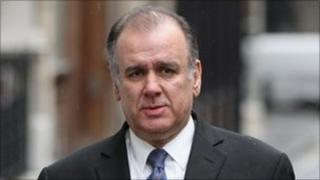 Up to 50 people got off the London bus bombed on 7 July 2005 moments before the deadly blast, an inquest has heard.
After the bus was diverted by police responding to the Tube bombings, driver George Psaradakis told his passengers that some might be better walking.
"Lots of people got off the bus," he told the court. Moments later, bomber Hasib Hussain set off the device that killed himself and 13 others.
Mr Psaradakis described seeing the road strewn with body parts after the blast.
"I kept looking if there is anybody I could help but again people were dismembered and all dying," he told the inquests into the 7/7 deaths at the Royal Courts of Justice.
He added: "Seeing my passengers in such a state really shocked me, I was overwhelmed."
'Human solidarity'
After his appearance at the inquest, Mr Psaradakis read a statement outside the court in which he said: "When I am asked to talk about July 7 2005, what immediately comes to my mind is all those innocent fellow citizens who lost their lives in such a gruesome and barbaric way while simply going about their legitimate business.
"I also remember the innocent men and women who suffered such horrific injuries."
But he had also seen that day, in people's response to the bombings, "supreme human solidarity, unselfish altruism and solicitous unity from the citizens of our glorious capital", he said.
Giving evidence by video-link, Australian Louise Barry described how she had narrowly escaped one of the London Tube bombings before boarding the bus later blown up in Tavistock Square.
She needed hospital treatment for wounds to her arm, leg and head following the bus attack.
About an hour earlier, she had been on a train at Edgware Road when a bomb was set off on the train which had just left the station.
After being evacuated from Edgware Road, she boarded the number 30 bus to continue her journey. In a text exchange with her boyfriend, he said: "Lucky you weren't involved."
The explosion on the bus moments later was muffled as if "deeply underwater", Ms Barry said, adding that she thought she was having some sort of fit.
"I heard these voices: 'Everything's fine. Tell her everything's going to be OK, everything's fine.'
"And I think they were the people on the bus that I had been talking to, so I thought they were looking at me having a seizure."
Drips of boiling water from the bus radiator onto her arm brought her back to reality, she said, and believing the liquid to be petrol she feared it could cause an explosion.
"I was surrounded by bodies and I crawled through them, through the legs of people - that's what it felt like," she said.
"Then, as I was crawling through, I lost my shoes and my bag ripped off - I had a shoulder bag - and then I staggered up and suddenly it was gone, it was daylight.
"And then I was just standing at the back of the bus and I was looking around. I couldn't scream - I wanted to scream but no voice came out."