Tunisia riots: British tourists flee violence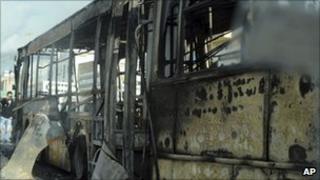 British tourists are arriving home from Tunisia, with the Foreign Office advising against all but essential travel to the north African country.
Tunisia's president has fled the country following violent protests that have left dozens of people dead.
Holiday firms Thomas Cook, Thomson and First Choice have offered to bring home all their UK customers.
Foreign Secretary William Hague urged British people to stay in touch with tour operators and avoid rallies.
"They should respect advice or instructions given by the local security authorities and tour operators and avoid rallies and demonstrations," he said.
Returning UK tourists have described the chaos on the streets, with crowds of Tunisians smashing windows and looting.
Flights cancelled
Thomas Cook has strongly advised its 1,800 UK and Irish tourists to take up the offer of return flights.
On Friday evening, the company said three flights had arrived in Manchester, one at Gatwick with another due to land there, and the day's final flight had left Tunisia and should arrive at Manchester at about 2330 UK time.
Another flight will bring back the remaining passengers on Saturday. The company has cancelled its next scheduled departures to Tunisia on Sunday.
A Thomas Cook spokeswoman said reports that the military had surrounded Tunis airport would not affect the flights out as they were departing from the holiday airport, Monastir.
Thomson and First Choice said they planned to bring all their customers back to the UK within the next two days. A flight carrying 100 of their holidaymakers has taken off from Monastir bound for Manchester.
A spokesman said: "The remaining 1,437 customers in Tunisia will be brought home as soon as possible. In circumstances such as this, Thomson and First Choice always trusts and honours the advice it is given by the Foreign and Commonwealth Office (FCO).
"We have been monitoring the situation continuously, and reacted immediately to the deterioration in circumstances and the change in FCO advice. We will now bring all customers back to the UK as quickly as possible."
Thomson and First Choice flights to Tunisia on both Sunday and Wednesday have been cancelled.
Abta, which represents UK travel agents and tour operators, said it believed there were about 5,000 British tourists currently in a number of different resorts.
The Foreign and Commonwealth Office (FCO) changed its guidance for Tunisia on Thursday.
Call for restraint
Mr Hague said: "I condemn the violence and call on the Tunisian authorities to do all they can to resolve the situation peacefully.
"I am calling for a rapid return to law and order, restraint from all sides, an orderly move towards free and fair elections and an immediate expansion of political freedoms in Tunisia.
The US and France are also advising against non-essential travel to Tunisia.
Thousands of demonstrators gathered in the centre of the capital Tunis, calling for President Zine al-Abidine Ben Ali to leave office immediately.
The action follows weeks of protests across the country, over corruption, unemployment levels and high food prices,
Clare McCullars, originally from County Durham, but now running a tour company in Monastir, told the BBC she felt "relatively safe".
"I've been speaking to people here and they say as foreigners, we're largely unaffected, but they're advising us not to travel to the town centre," she said.
"It's a message I'm passing on to the tourists I have out here. I know there is looting going on in Monastir town centre."
Precaution taken
Thomas Cook said its repatriation effort extended to all of its UK customers in Tunisia, including independent travellers with accommodation or flight only.
A spokesman said: "Although there have been no specific problems for our holidaymakers, their well-being is our primary concern so, as a precaution, we've taken the decision to bring them back to the UK as soon as we can, using our fleet of aircraft today."
Thomas Cook said everyone due to travel on Sunday would be able to switch their trip to another destination.
Thomson and First Choice have set up a helpline for customers due to travel on Sunday. They should call 0800 009 3834.
Sean Tipton, from Abta, said: "The Foreign Office hasn't actually said that tour operators have to bring people home - which they have advised in the past in certain situations - so companies are making individual decisions."
The body said all customers with package holidays to Tunisia who had not yet travelled would be entitled to make alternative arrangements, rebook for a later date, or get a full refund.
'Very concerned'
Holidaymakers returning to Gatwick have been describing the situation in Tunisia.
Jim Thompson, 76, from East Kilbride, who was on holiday in Hammamet with his wife Eleanor, 71, said: "There were crowds running up the streets, smashing windows and looting."
Richard Waudby, 52, from King's Lynn, Norfolk, said: "Some of the people were frightened but the locals were OK with us. They didn't have any grievances with us. They want the tourists there."
Cynthia Rigby, 55, from Liverpool, said she was confined to her hotel by the chaos: "I was scared I was going to get hurt and I felt sorry for the people. It is horrible out there."
Shadow foreign secretary Yvette Cooper said she was "very concerned" by the situation in Tunisia and the response of the Tunisian government to the protests.
She said: "It is important the UK government puts into effect appropriate measures to protect British citizens currently in Tunisia. It is critical Foreign Office communications get through to people in their resorts and hotels, and that help is provided to co-ordinate additional flights if necessary.
"In addition, the UK must press the Tunisian government in the strongest possible terms to respond to protests proportionately without shooting or beating crowds of people."