More rain forecast for weekend amid flood warnings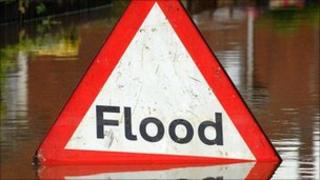 Forecasters say heavy rain will persist over the weekend and may cause further flooding in parts of Great Britain.
BBC forecaster Jay Wynne said many places would have 50-75mm (2-3in) of rain on Saturday and Sunday, with some seeing 100-150mm (4-6in).
There are flood warnings in place for parts of Wales, south-west England, north-east England and the Midlands.
Localised floods have already hit parts of Wales after more rain fell on already saturated ground overnight.
The A487 is shut in both directions between Machynlleth and the Glandyfi junction in Powys due to flooding.
Flooding is causing disruption at Bristol Parkway station, with First Great Western trains from London to Swansea affected. Passengers are being told to expect cancellations and delays.
'Pretty saturated'
The Environment Agency (EA) said high river levels could combine with saturated ground to cause problems.
"With further rain forecast... and the ground approaching saturation point, further flood alerts and flood warnings may be issued across Wales and south-west England," a spokesman said.
"These may remain in place over the weekend and into next week."
The BBC's Jay Wynne said there would be an improvement in the weather across most of the UK on Friday but it would turn "very wet and windy" from about 0300 GMT on Saturday.
"It will be very wet across the north and west of UK, southern Scotland and north Wales, with Cumbria and the Lake District likely to be worst hit.
"Many places will see peak totals of 50-75mm of rain and some places could see more than 100-150mm.
"Rain will slowly slip south during day on the Sunday, but the ground is pretty saturated so we could see more flood warnings," he said.
The rain would clear away by Monday and next week would be "colder, drier and brighter", he added.
Pump water
There are seven flood warnings and 62 flood alerts in place for England and Wales.
In south-west England, a warning is in place on the River Tamar from Tamarstone to Polson Bridge.
In north-east England there are flood warnings for the River Derwent at Buttercrambe Mill, and in the Midlands, a warning has been issued for the River Wye, from Hereford to Ross on Wye.
There are four flood warnings for Wales, for the River Teifi at Lampeter and Llanybyther, the River Ritec at Tenby, and the River Ely at Peterston super Ely and St Fagans.
On Thursday night firefighters were called to pump water from streets and properties in the Pontypridd area and Pontygwindy area of Caerphilly.
The Scottish Environment Protection Agency has issued four flood watches - for the Fife and Clackmannanshire rivers, Earn, Upper Spey and Upper Tay and tributaries.
The enhanced content on this page requires Javascript and Flash Player 9
Map Key
Land
Cloud
Lakes, Rivers & Sea
Fog
Light
Heavy
Frost
Light
Heavy
Pressure Fronts
Cold
Warm
Occluded
Rain
Light
Heavy
Extreme
Snow
Light
Heavy
Temperature tab only
Temperature (°C)
More details from BBC Weather