Downton Abbey creator Julian Fellowes takes Lords seat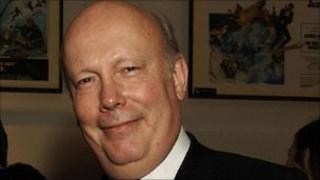 The creator of hit ITV drama Downton Abbey will take his seat in the House of Lords as a Conservative peer later.
Director and Oscar-winning screenwriter Julian Fellowes will swear his allegiance to the Queen in a brief ceremony shortly after 1045.
Lord Fellowes of West Stafford, whose title comes from the Dorset village where he lives, was one of 54 new members announced by No 10 in November.
The 61-year-old is a long-standing Conservative supporter.
He helped write speeches for former leader Iain Duncan Smith and is an acclaimed chronicler of the upper classes, winning an Oscar in 2002 for writing the screenplay for Robert Altman's film Gosford Park.
His recent ITV hit Downton Abbey gained an average 10.1m viewers during the final episode and the costume drama has been recommissioned for a second series.
While taking the oath, Lord Fellowes is set to be flanked by his supporters, Tory hereditary peer Lord Northbrook and Tory energy and climate change minister Lord Marland.
At the beginning of the ceremony he will process into the Lords following the acting Black Rod, Yeoman Usher Ted Lloyd-Jukes, and the Garter Principal King of Arms, Thomas Woodcock.
A Lords clerk will then read out Lord Fellowes' Letters Patent, a document issued by the Queen granting a new life peerage, before he swears an oath or makes a solemn affirmation and then signs up to the code of conduct for peers.
To cope with the spate of new peers, House of Lords sittings are starting 15 minutes early on Mondays, Tuesdays and Thursdays until the February recess.
Prominent new members due to take their seats in the coming weeks include former Chief of the General Staff Sir Richard Dannatt, broadcaster Dame Joan Bakewell and former England women's cricket captain Rachael Heyhoe-Flint.
The 54 new appointments will take the total membership of the House of Lords to nearly 750 - the highest number since the vast majority of hereditary peers were abolished in 1999.