Prisons shutdown unveiled by government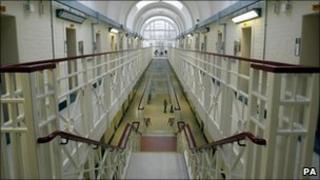 Three prisons with a total capacity of 850 inmates are to close, the Ministry of Justice has announced.
Ashwell prison in Rutland and Lancaster Castle in Lancashire will shut, while Morton Hall in Lincolnshire changes to an "immigration removal centre".
Justice Secretary Kenneth Clarke, who wants to cut total inmate numbers, said the jails were outdated and expensive.
As of last weekend, the jail population was 82,991 in England and Wales, almost 5,000 places below capacity.
The inmates from the three closed prisons will be re-housed elsewhere, while about 500 staff will be transferred nearby or invited to apply for voluntary redundancy, a spokesman added.
'Sufficient places'
Mr Clarke said: "The decision to close any prison is a difficult one but one that we have had to make. Closing outdated and expensive prisons is an important step in our strategy to provide a secure and modern, fit-for-purpose prison estate, while improving efficiency and value for the taxpayer.
"The changes will reduce our current capacity by 849 places and I am confident that they can be safely managed within existing headroom, whilst maintaining our ability to cope with any increase in population.
"Security remains our highest priority and we will ensure that this, along with efficiency and current performance levels, is maintained across the estate."
He added: "Decisions on the future size of the prison estate will be driven by population demand and prisons will only close when capacity allows.
"We will always ensure that there are sufficient places for those offenders sentenced to custody by the courts, including a margin to manage fluctuations in the prison population. Decisions to close future capacity will only be taken if they do not put this ability at risk."
In December Mr Clarke set out proposals to reduce the then 85,000-strong prison population in England and Wales by about 3,000 over four years.
Other plans to reduce prison numbers included allowing some foreign criminals to leave Britain for good instead of going to prison, giving judges more discretion over sentencing in murder cases and handing more offenders fines or community sentences.
Ashwell prison, a former Army camp, is a facility for medium-risk males with a capacity of 214. It will close by the end of March.
Lancaster Castle is leased from Lancashire County Council while the land itself is owned by the Duchy of Lancaster. It has a capacity of 238 and will also close by the end of March.
And Morton Hall, a former RAF base used to house female prisoners, has a capacity of 392. The government said it would be operational as an immigration centre by some time next year.