Flood alerts for UK after heavy rainfall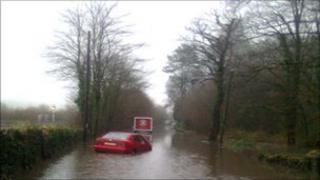 Communities in south-west England and south Wales have been warned to brace themselves for flooding as heavy rain on Thursday persists into Friday.
The Environment Agency (EA) said river levels were high with the ground approaching saturation point.
Localised floods have already hit parts of Wales, with firefighters called to pump cellars in Machynlleth, Powys and Ogmore Vale in Bridgend.
There are also flood warnings for parts of north-east England and the Midlands.
An EA spokesman said rivers were reacting to overnight rainfall and remained relatively high.
"With further rain forecast tonight and tomorrow, and the ground approaching saturation point, further flood alerts and flood warnings may be issued across Wales and south-west England," he said.
"These may remain in place over the weekend and into next week."
The Met Office said the heaviest and most persistent rain would be in west Wales before midnight, with heavier outbursts on Friday over the mountainous south and west of the country.
In Devon and Cornwall, rain is expected for much of the night, particularly over the west-facing higher ground of the Moors.
In north Wales, a delivery van driver was stranded in his car in floods near Machynlleth overnight and had to be towed to safety.
And a woman in her 90s in the same area was rescued from a house in Dyfi Bridge after being stuck upstairs because of flooding.
A total of 80 flood alerts and 13 flood warnings remain in place for England and Wales.
The Scottish Environment Protection Agency has issued two flood watches - for the Borders and the Kyle of Sutherland. Rivers in Edinburgh and Lothians, Falkirk and Orkney have been given the all-clear following earlier warnings.
In north-east England there are flood warnings for part of the the River Derwent at Buttercrambe Mill and part of the River Ouse at Naburn Lock.
In south-west England, warnings are in place on the River Tamar from Tamarstone to Polson Bridge, the River Torridge from Dolton to Bideford, the River Exe from Tiverton to Exeter and the River Yeo at Barnstaple.
In the Midlands, there are two warnings for parts of the River Wye - from Hay to Hereford and from Hereford to Ross on Wye.
There are five flood warnings for Wales, for the River Teifi at Lampeter and Llanybyther, the River Ewenny at Pencoed and Ewenny Village, the River Ely at Peterston Super Ely and the River Ritec at Tenby.
There are also 24 flood alerts in Wales.
The BBC's Jay Wynne said the heavy rain in south-west England and Wales would ease off during the day on Friday, leading to a dry and breezy night.
"On Saturday there will be very strong winds and heavy rain from north Wales northwards, and it will be windy everywhere," he said.
"Heavy rain will slowly slip southwards Saturday night into Sunday."
The enhanced content on this page requires Javascript and Flash Player 9
Map Key
Land
Cloud
Lakes, Rivers & Sea
Fog
Light
Heavy
Frost
Light
Heavy
Pressure Fronts
Cold
Warm
Occluded
Rain
Light
Heavy
Extreme
Snow
Light
Heavy
Temperature tab only
Temperature (°C)
More details from BBC Weather