Disabled passenger service system 'fails too often'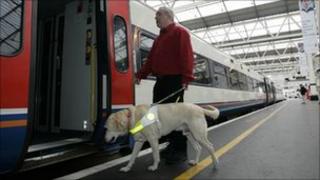 Some disabled passengers are left stranded on trains or waiting on platforms despite requesting assistance from rail firms, according to a survey.
Passenger Focus monitored nearly 200 "mystery shopper" journeys by people with visual or mobility impairments.
While 70% were satisfied with the service received, there were too many cases of the system failing, it said.
Train companies said poor service was "unacceptable" but the survey did not reflect improvements in service.
The Association of Train Operating Companies said further improvements were planned.
The mystery shoppers - who included wheelchair users - had booked through the assisted passenger reservation system.
Among them were some who found the service "outstanding and excellent".
However, Passenger Focus chief executive Anthony Smith said while some excellent examples of customer service had been found by its survey, as well as improvements in the assisted passenger reservation system, there were still too many cases where the system was failing.
One traveller reported finding the service by staff "poor and bordering on the comical", while another said they had encountered rude staff.
Mr Smith said: "There were too many instances of staff not being adequately trained, people being left stranded without help and, in some cases, not being treated in a decent or dignified way."
One passenger, Martyn Sibley, who works for disability charity Scope, said he had had a couple of "horrific" experiences on the railways.
He told BBC Breakfast: "The two main pitfalls really are around the fact that you have to call at least 24 hours before you travel, so spontaneity goes out of the window."
Mr Sibley said that twice his train had pulled away with him still on board while his travelling companion was on the platform trying to find the ramps to help him get down in his wheelchair.
"It is kind of a civil rights thing," he said. "Martin Luther King had a dream half a century ago - well I've got a dream where I can literally wake up one morning, get on a train and not feel like I'm being a nuisance, no glitches and no stress, like anyone else."
Atoc said train companies had been working closely with disability groups, Passenger Focus and the rest of the industry to improve the service.
"Where there have been cases of disabled passengers failing to receive the level of service they expect and deserve, clearly that is unacceptable," it said.
"However, the Passenger Focus survey does not properly reflect the real improvements in the service offered to disabled passengers in recent years.
"Millions of pounds have already been invested in improving access for disabled passengers and significant progress has already been made. More disabled people than ever are choosing to travel by train."
It added that train companies had acknowledged they could be doing more, and would this summer be launching an improved passenger booking system that had been designed and tested with help from disability groups.
'More consistent'
Office of Rail Regulation chairwoman Anna Walker welcomed the level of passenger satisfaction shown in the report.
But she added: "The industry is taking positive steps by developing an improved booking service - but vulnerable passengers are calling for a system that they can rely on, and today's evidence shows it is not there yet."
She added that the recommendations would be discussed with the Department for Transport, and rail firms would be asked to set out clearly how it intended to deliver an improved, more consistent service.
Transport minister Norman Baker said the government was investing £370m in making the railways more accessible, as well as additional funding of £150,000 to Atoc to improve the assisted passenger reservation system during 2011.
"The government is determined to progressively reduce the number of people who find it difficult to access public transport," he said.