MPs' expenses: Eric Illsley is to stand down as MP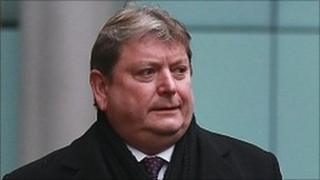 Eric Illsley is to quit as an MP after pleading guilty on Tuesday to dishonestly claiming parliamentary expenses.
The MP for Barnsley Central had come under pressure to step down after admitting £14,000 of expenses fraud.
Labour leader Ed Miliband was among those to urge Illsley, who has yet to be sentenced, to quit.
Illsley has apologised to his constituents, saying he "deeply regretted" his actions.
He said he would be resigning before his sentencing next month.
In a statement issued by his office, Illsley said: "I would like to apologise to my constituents, family and friends, following my court appearance, for the distress and embarrassment caused by my actions that I deeply, deeply regret.
"I have begun to wind down my parliamentary office, following which I will resign from Parliament before my next court appearance.
"I will be making no further comment."
Illsley's decision will trigger a by-election in the Barnsley Central constituency.
Suspended
He was re-elected as a Labour MP last May with a majority of more than 11,000, having first entered Parliament in 1987.
But he was suspended by Labour after being charged with abusing his expenses and has since been sitting as an independent MP.
Mr Miliband had urged him to stand down, saying his offences meant he could no longer be a "credible voice" for his constituents.
Downing Street had stressed it would be "untenable" for him to continue as an MP.
Senior Labour backbenchers had also threatened to use parliamentary procedure to expel him from the House of Commons unless he decided to quit voluntarily.
However, Commons Speaker John Bercow ruled on Wednesday that this could not happen until after sentencing - which will not take place for four weeks - because the matter was still sub judice.
Under current rules, MP have to forfeit their seat if they are jailed for more than a year.
Recall move
Had Illsley received a lesser sentence and decided to stay on as an MP, it would have tested the coalition's commitment to allow the removal of Members of Parliament guilty of serious wrongdoing - a measure which won widespread support in the wake of the expenses scandal.
Illsley pleaded guilty on Tuesday to three charges of false accounting, admitting to dishonestly claiming payments for insurance, repairs, utility bills and council tax at his second home between 2005 and 2008.
He is the only current MP to have been charged in relation to his expenses.
Former Labour MP David Chaytor is serving an 18-month jail term after pleading guilty to dishonestly claiming expenses.