7/7 inquests: Survivor describes narrow escape on bus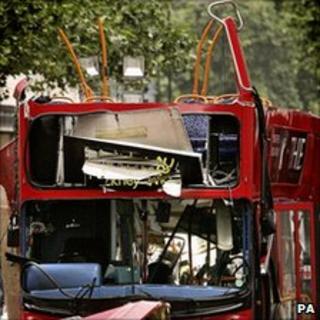 A 7 July survivor described how she decided not to sit next to one of the suicide bombers because there was no room for her laptop and his rucksack.
Lisa French told the 7/7 inquests how she followed the bomber up the stairs of a packed number 30 bus at Tavistock Square in London in 2005.
Ms French ended up sitting about four rows in front of Hasib Hussain.
Moments later the 18-year-old detonated his home-made device, killing 13 people on board the red double-decker bus.
Ms French told the inquests at the High Court: "I made the decision not to go and sit next to him because I was aware we both had very big bags and that he, we, you know, would be taking up a lot of room."
BT employee Ms French, from Newcastle-upon-Tyne, who had been due to attend a business meeting in Angel, north London, took the bus after arriving at King's Cross to find the Underground station closed.
After the blast she roused to see an empty space where the back of the bus had been.
"There were no seats left behind me attached to the bus. There was literally no bus left. It just dropped down behind our seats," she told the inquests.
Referring to images of the wrecked vehicle, showing a pole protruding from a twisted seat, she said: "That's where I woke up."
'Totally unnecessary'
Commuter Anita Dybek-Echtermeyer told the inquests how Hasib Hussain boarded a crowded number 91 bus at King's Cross carrying a heavy backpack and looking nervous and sweaty.
Ms Dybek-Echtermeyer later realised the man was Hussain, who blew himself up on the second bus.
Disruption caused by earlier Tube bombings meant Ms Dybek-Echtermeyer's bus shortened its journey so she tried unsuccessfully to get a number 30 bus at Tavistock Square.
She said: "I walked a few steps, maybe 10m (33ft), and then I felt this huge noise and this blast of air going through. So I turned and I saw the bus going into the air and I just ran."
The inquests into the deaths of 52 people have previously heard evidence from passengers on Tube trains that were targeted by three other suicide bombers at Aldgate, Edgware Road and Russell Square, on 7 July 2005.
The mother of Anthony Fatayi-Williams told the inquests that her son's death on the number 30 bus was "totally unnecessary", suggesting the authorities could have foreseen it.
On the day of the attacks, 26-year-old Mr Fatayi-Williams' journey to Old Street in central London was disrupted by the chaos caused by the earlier bombings.
Marie Fatayi-Williams said: "Anthony's life was cut short in a needless, totally unnecessary and preventable attack on London.
"His family continues to miss him sorely, even after these five years. We, his parents, continue to wonder if his death could have been prevented, or even the attacks foreseen by the relevant authorities."
'Tower of strength'
The inquests heard tributes to other victims of the bus bomb.
Father-of-two Giles Hart, 55, from Hornchurch, Essex, was a "devoted" husband who had married a Polish woman.
An active campaigner on several causes, he was posthumously granted the Knights Cross of the Order of Merit of the Republic of Poland for his services to democracy.
City worker Jamie Gordon, 30, from Enfield, north London, was described as "simply the best son in the world".
Mother-of-two Marie Hartley, 34, from Oswaldtwistle, Lancashire, had been evacuated from a Tube station and sent a text to say she was safe, only to board the ill-fated bus.
Computer analyst Neetu Jain, 37, from Hendon, north London, was about to marry her partner.
Another victim, Sam Ly, 28, who was born in Vietnam, died from his injuries a week after the bus bombing.
Sri Lanka-born Shyanuja Niroshini Parathasangary, 30, from Kensal Rise, north London, was described as a "tower of strength" to anyone who needed her help.
Charity worker Anat Rosenberg, 39, from Finsbury Park, north London, was said by her partner to be "gregarious" and "vivacious".
City worker Philip Russell, 28, from Kennington, south London, was a "true gentleman".
IT specialist William Wise, 54, commuted daily from his home in Notting Hill, west London, to his job in the City.
Gladys Wundowa, 50, from Ilford, Essex, was planning to move back to her native Ghana with husband Emmanuel.
The sister of picture researcher Miriam Hyman, 31, from Barnet, north London, said she "brought great joy and laughter".
Relatives of Shahara Islam, a 20-year-old bank cashier from Plaistow, east London, said she was an "Eastender, a Londoner and British, but above all a true Muslim and proud to be so".