Tory MP protests over coalition plan for prisoner votes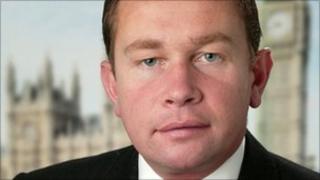 A Conservative MP from Northamptonshire has criticised a coalition government plan to allow prisoners to vote.
Kettering MP Philip Hollobone said the proposal was another case of the "Lib Dem tail wagging the Conservative dog".
In a statement he said the coalition did not need to obey a recent ruling by the European Court of Human Rights that prisoners should be allowed to vote.
The government said prisoners serving less than four years will get the right because of fears over compensation.
Its legal advisers said it could face huge damages demands from inmates if it dragged its heels on the issue any longer.
The issue is now to be debated in Westminster Hall.
Mr Hollobone claims the decision was not the result of the European court's ruling, but a "Conservative sop to the Lib Dems".
He said if the Tories stuck to their election pledge of replacing the Human Rights Act with a Bill of Rights, prisoners would not be given the vote.
The prisoner vote policy was in the Lib Dem election manifesto but did not make it into the coalition agreement.
Mr Hollobone said: "Here we have another case of the Lib Dem tail wagging the Conservative dog.
"This is an issue which has very strong public support and I don't believe the government will win a vote in Parliament to give prisoners serving less than four years the right to vote."