UK newspapers preoccupied with City bonuses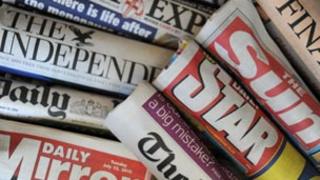 With the bonus season upon us, City pay packets preoccupy many of the papers.
It is a case of "game, set and match" in the City for the Guardian, which says Chancellor George Osborne's tough words proved to be hot air.
Similarly the Daily Telegraph says "Cameron admits defeat over bonuses" and according to the Daily Mail, Downing Street appears to have run up the white flag.
Meanwhile the Times' headline gives a "Grudging go-ahead for bank bonuses".
Political language
Several papers consider whether former Republican vice-presidential candidate Sarah Palin might have contributed to the shootings in Arizona.
Like most papers, the Guardian makes it clear that there is no direct line from Mrs Palin to the suspect.
But the Financial Times says she has come under scrutiny for using political language with violent undertones.
And the Mail asks if inflammatory language encouraged the killer to act as he did?
Tube strike
Many papers report police investigating the murder of Jo Yeates are examining a letter and pizza label posted to the pub where she spent her final evening.
The Telegraph says the rambling note made specific reference to Miss Yeates, while the Daily Star claims detectives fear her killer is taunting them.
Meanwhile talk of a Tube strike on the day of the royal wedding is criticised.
The Sun says it takes a "special sort of callousness and cynicism" to try to ruin the big day for Prince William.
Royal wedding
However there is good news for souvenir hunters - the Queen has ordered shops selling official wedding merchandise not to pass on the VAT rise.
According to the Star, Buckingham Palace says it recognises customers are going through "austere times".
And the Telegraph reports royal courtiers have done a U-turn on the sale of a commemorative tea towel.
"Palace killjoys throw in towel and overturn royal wedding teacloth ban," its headline says.